The top posts on social media from your favourite Bollywood celebrities: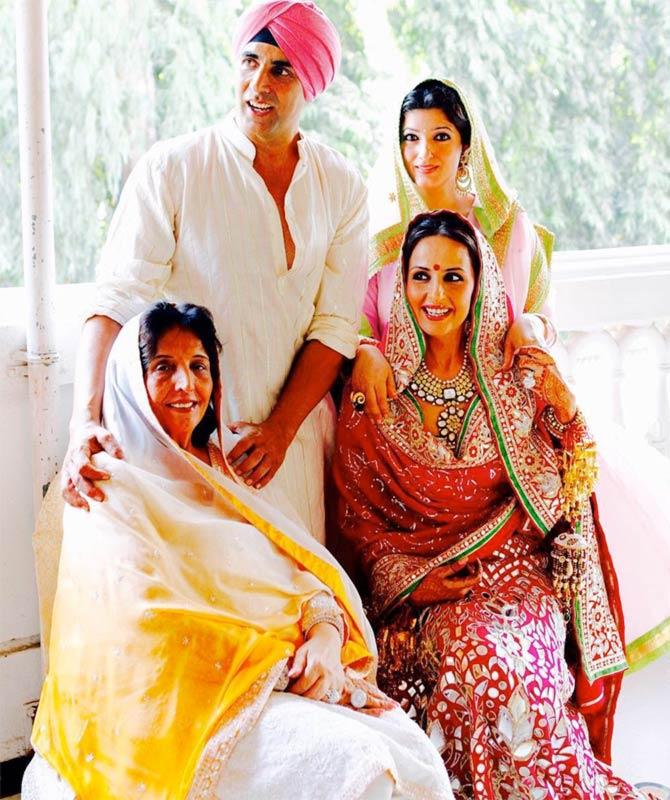 On International Women's Day, several celebrities turned to Twitter to wish fans and share their views:
Akshay Kumar shared a picture of his wife Twinkle, sister Alka and mother Aruna on Instagram, above, and wrote, '3 cheers to these 3 ladies who keep me sane by driving me insane almost daily & all you lovelies Happy #InternationalWomensDay. We truly can't function without you all. #WomensDay #IWD2016 #WomenOfSteel.'
Shah Rukh Khan: 'Often I wish I was a woman…then realise I don't have enough guts, talent, sense of sacrifice, selfless love or beauty to be one. Thk u girls.'
Farhan Akhtar: 'On this Women's Day, let's deepen our resolve to create a world in which all women can live with equality, freedom and dignity.'
Lara Dutta: 'Happy Women's Day my fierce, strong, loving, multitasking, self sacrificing, hard working fellow sisters.'
Sunny Leone: 'The 1woman I look up 2 in my life is my mother in law who is unstoppable w/ her love & devotion 4 our whole family.'
Ram Gopal Varma: 'I will not wish Women, Happy Women's day becos I believe Women should be happy all days..Expecting them to be happy only for 1 day is mean. Women are the most beautiful creation of God and for that I will forgive him for creating ugly things like Terrorists, Cockroaches etc.'
A.R.Rahman: 'Love and respect to all the women who made my life beautiful and bearable... Happy Women's Day!'
Juhi Chawla: 'Women who seek to be equal with men lack ambition ..!!! Happy Women's Day girls ..!!'
Nandita Das: 'Happy #WomensDay! Not as a tokenism, but as a pledge, as a dream waiting to be realised for a more equal and compassionate world.'
Boman Irani: 'Women can do what men can do, But men just can't do what women do.....they should try, will make them stronger!'
Dia Mirza: 'Dear Women, Be good to yourself, keep learning, make a living out of what you love to do, stop postponing that doctors appointment. YOU first.'
Shilpa Shetty: 'Happy women's day. Celebrate yourself everyday... Not just on Women's day!'
Neha Dhupia: '#HappyWomensDay to all the women out there...As for the #men feel blessed u have them n tell them how much u love, cherish n respect them!'
Abhishek Bachchan: 'Women's day. Really? REALLY!! You need a day to realise how important they are and show it? JUST-A-DAY?'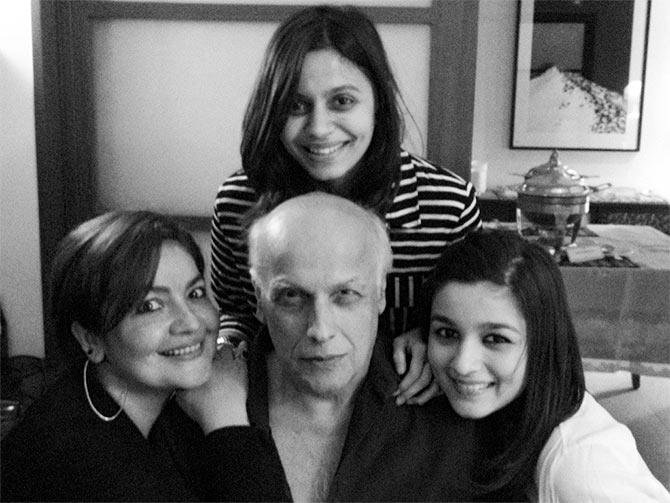 Mahesh Bhatt posted a picture of himself with his daughters, Pooja, Shaheen and Alia, and wrote: 'On this woman's day a quote for my 3 girls: "The question isn't who's going to let me; it's who is going to stop me."
***
Like the poster of Nil Battey Sannata?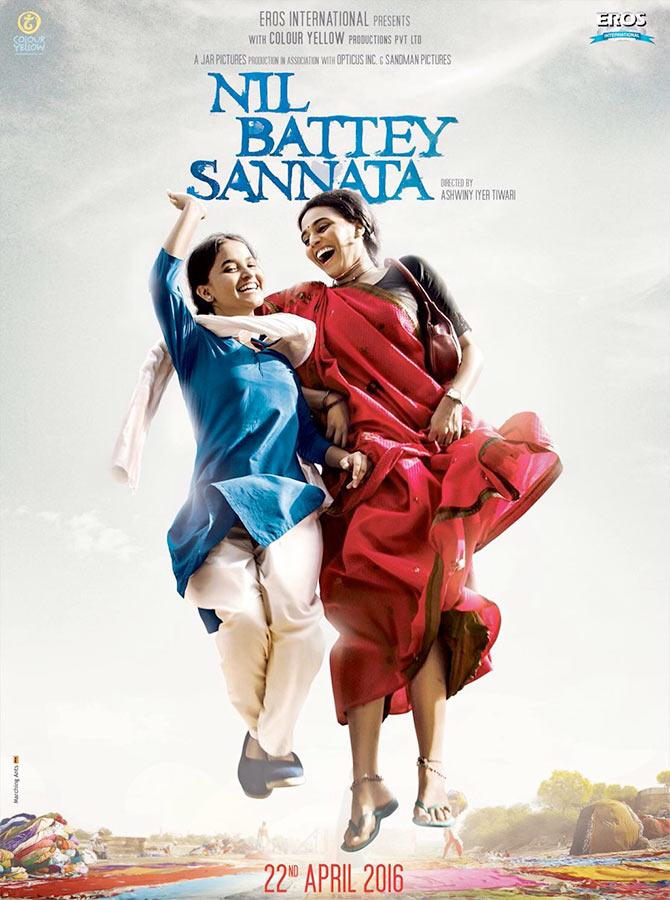 The first official poster of Ashwini Iyer Tiwari's debut film Nil Battey Sannata has been released.
Sonam Kapoor shared it on Twitter and wrote: 'From Neerja to Chanda this women's day it's all about girl power! Introducing the official poster of #NilBatteySannata featuring meri behen @reallyswara.'
Starring Swara Bhaskar, Ratna Pathak, Pankaj Tripathi and Ria, the film is expected to release on April 22.
***
On the sets of Sultan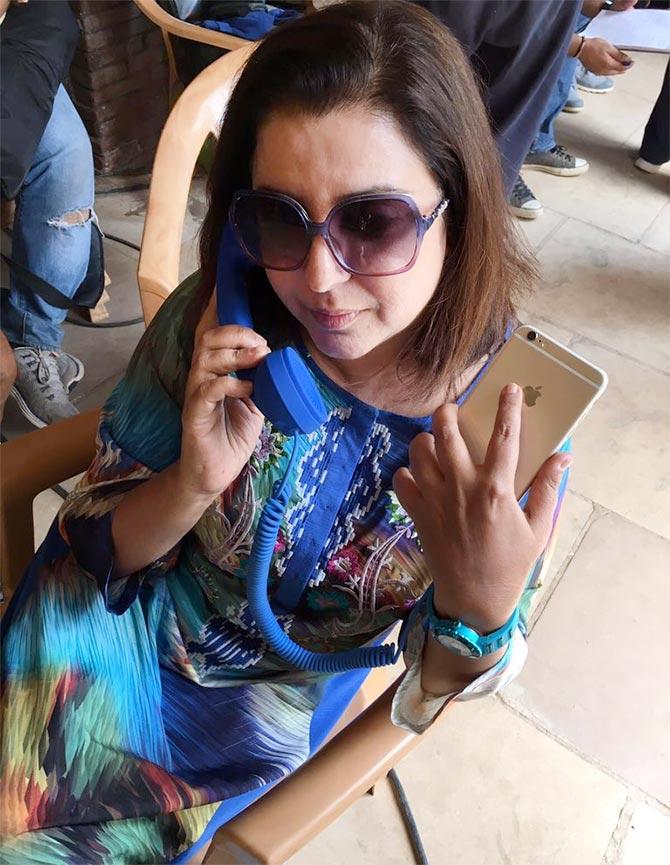 Anushka Sharma has started shooting a song for Ali Abbas Zafar's upcoming film Sultan.
She posted a picture of choreographer Farah Khan, above, and wrote: '@TheFarahKhan fighting cell phone radiation like a boss ! #Sultan #SongKaShoot'
Directed by Ali Abbas Zafar, Sultan also features Salman Khan and Randeep Hooda. It will release on July 6.
***
Asha Bhosle praises Ranveer Singh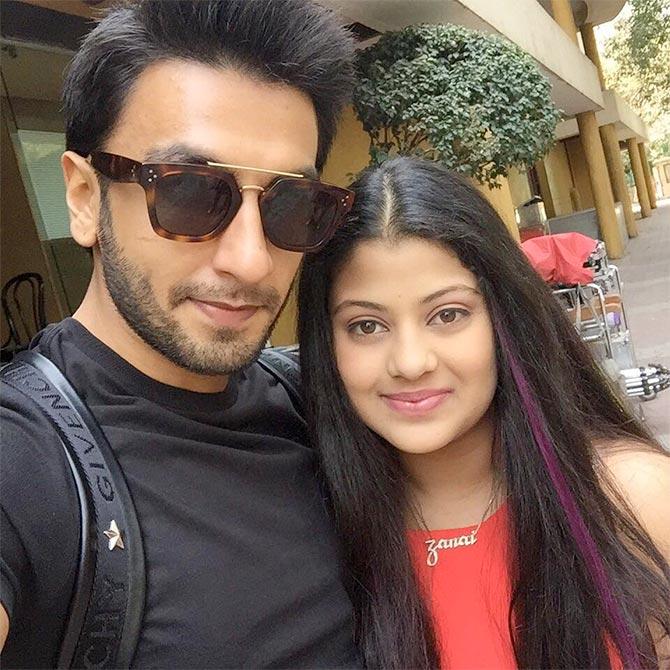 Asha Bhosle's granddaughter Zanai recently met Ranveer Singh and the veteran singer turned to Twitter to show praise on him.
She posted a picture, above, and wrote: 'Grand daughter Zanai with Bajirao post shooting her song video with '6 Pack Band'. Her next performance @WOMADelaide.'
'@RanveerOfficial Meri poti Zanai aapke gun gaa rahi hai. Aap ache kalakar aur insaan hai. Shukriya. Aapki Asha,' she added.
Ranveer Singh wrote back saying, 'Ashaji shes a lovely girl! Warm, kind, beautiful & talented, just like her grandma! Happy to have met her!'
***
Alia, Sidharth, Fawad enjoy Gujarati food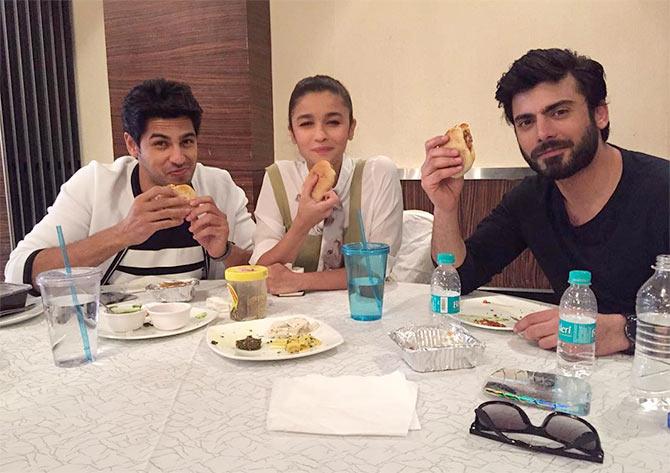 Alia Bhatt, Sidharth Malhotra, Fawad Khan recently visited Ahmedabad to promote their upcoming film Kapoors & Sons.
Fawad posted a picture of them together, above, and tweeted: 'Gujju food was in the house today for lunch. Thank u for the Dabelis Dhoklas Khandvi and Patra.'
The film will release on March 18.