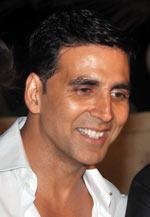 Who would have thought Akshay Kumar -- with his lean look and super-fit physique -- would need to lose weight for a role? 
The word is Akshay has been asked to lose seven kilos for A R Murugadoss' remake of Tamil hit
Thuppakki.
The shooting will start on December 20, since the Christmas week is considered lucky by the director.
Says a source: "He released his
Ghajini
in December. Since then, Murugadoss has been attached to the Christmas season. He was keen on staring the Hindi
Thuppakki
in the Christmas week, and Akshay was happy to oblige. The only problem is, he has only two weeks to lose five kilos. Later, he will need to lose more weight, as his character is 12 years younger than Akshay's real age."
"The soldier-hero is never really shown in the army," Murugadoss says. "The drama happens while he's on leave. But we want Akshay to look like a young army
jawaan
fit enough to take on the villains. He should look like a real soldier. He will get a crew-cut hairstyle."
The demand to lose weight seems strange for a leading man, who is as slim as Akshay.
Explains Murugadoss, "Akshay is one of the fittest heroes in India but we want him fitter, as he plays a soldier. His shoulders should become more streamlined, his frame should be slimmer. Akshay has the physique for the role. He just needs to lose a little more weight and become slightly sharper around the edges."
For the Tamil film, Vijay had gone for commando training to play the soldier.
"Akshay is already into martial arts, so all he needs to do is just polish up his act. He has the know-how and the physical fitness," says the director.
Incidentally, Aamir Khan had to bulk up for Ghajini, to play the self-trained fighter. In Thuppakki, Akshay will have to go the other way and get leaner.