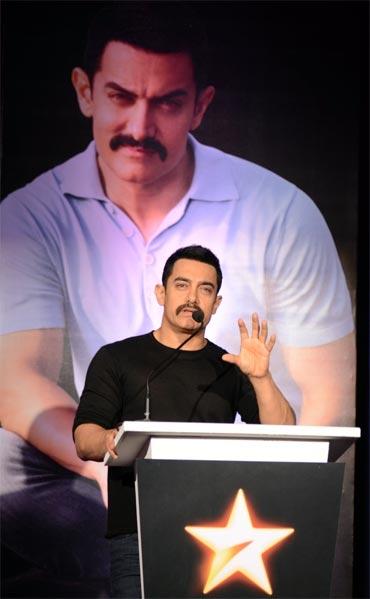 After Shah Rukh Khan and Salman Khan, it's now the turn of Aamir Khan to make his presence felt on the small screen. He will be hosting a yet-to-be-titled television chat show, which will be based on real stories, real people, and real emotions.
"Over the last few years, I have been approached for various TV shows, but the offers never excited me. However, this show will be a journey of discovery, of change, of emotions, of human stories which will touch and inspire our daily life," Aamir said.
 
He said the idea for the show came to him some time back, "but it took time for me to decide on whether I want to do it or not. Also, I realise that TV is a very strong medium and I should make use of this platform to reach larger audiences."
 
The actor says he is a little nervous "but also excited and charged up about the show."

If he was to do something for television it had to be different. "It has to be something that will connect with the audience. This is an ambitious project and I just hope it will be successful."
 
Television involves TRPs, which pile on the pressure. "I cannot add something extra to increase the TRP. I would rather focus on the subject and grab eyeballs. All I want is that more and more people watch the show," he says a trifle naively.
 
He made it clear that his show is not based on Oprah Winfrey's phenomenally successful international chat show.
 
The show will be aired on the Star Plus channel early next year; it will be broadcast simultaneously in eight languages. It will be jointly produced by Aamir Khan Productions and Star India.