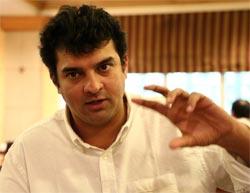 S
iddharth Roy Kapur,
managing director of Studios - Disney UTV, was in Chennai recently to address a meeting

 
, was in Chennai recently to address a meeting organised by the Federation of Indian Chambers of Commerce and Industry (FICCI).
With UTV making its presence felt in the Tamil and Malayalam entertainment industries, Kapur spoke exclusively to
Shobha Warrier
about UTV's plans for the south Indian film market.
UTV has made an entry into the south Indian film market recently. What attracted you to this market?

After establishing ourselves in the Hindi film industry and understanding it completely, we decided that it was important to be present in a significant manner in the south also if we wanted to be a pan India company.
What has been your experience so far?


The last year-and-a-half that we've been here has been an interesting experience for us.
Yes, it is a different market. We felt it was necessary to be here and understand the market. We see that interesting and different stories are being told in this market. We feel we can cross-pollinate and take stories from here to the Hindi space too.
We also see that there is great writing and acting talent here. Ultimately, stories are stories and they can work in any market. We shouldn't be intimidated by the fact that it is a different sensibility and different culture.
Why do you say it's a different sensibility here in the South?

There is no denying that it's a different sensibility in the south. But I feel a good story will work anywhere. It depends on what you put around the story.
If you take a film like
Rowdy Rathore
, it has worked in Telugu, Tamil, Bengali and also Hindi.
These four markets are totally different but there is something in the story that worked in all these markets.
The place, whether it is Uttar Pradesh or Bengal or Andhra Pradesh or Tamil Nadu, his mannerisms, his name, all these may differ, but the basic character remained the same. I think it is important to get the soul right. Once you get it right, you can adapt it to whichever language you want to.
How huge is the South market for you?

It is a significant part of our operation. In terms of revenue, it is definitely in the15-20 percent range of what we are doing now. What is important about the market is it gives us a foothold in a creatively vibrant environment where so many interesting stories are being told. We definitely didn't want to lose out on such a market.
Then, the cost and revenue model in the south are still quite sensible while in Hindi, it has gone off-track a little.
I think the amount that is spent on print and publicity here is curtailed compared to Hindi. In Hindi, you have to shout louder and louder, and therefore you have to spend a lot on print and publicity.
Production budgets are still fairly controlled here. Schedules are very well planned. People are very organised. Things tend to happen when they are supposed to happen. And, good stories are being told.
So, if we had to expand, why should we do so outside India when we can do it in India?
Marketing a film in Hindi is a huge effort, which is not so in the South. Do you plan to introduce such marketing techniques

here too?

We are glad that marketing costs are curtailed in the South. Honestly, marketing costs have gone so high there (
for Hindi films
), that sometimes it's higher than the production cost.
It is happening because of peer pressure. What is happening here (
in the South
) is much more sensible.
Though the Telugu film industry is the biggest in the southern market, you chose to enter the Tamil and Malayalam industries first. Why?

The Telugu film market is something that we are definitely looking at. In a year or two, we are doing projects in that market too.
In that market, we want to do big ticket star based projects which are very commercial and mass in nature.
You mean quite different from what you are making in other languages?

Yes. Because the Telugu market is such that we need to modify our strategy depending on the audience that we will be catering to.
Also, since we are entering for the first time, we want to test the waters first. The idea is to understand the market and then experiment.
Why did you choose Tamil and Malayalam first?

It was because of the opportunities that came our way, and the scripts that were offered.
We happened to meet people here who wanted to make movies with us. But in Telugu, period will be longer as we are planning big films there.
You have been producing big films with big stars In Tamil too.

As we go forward, we will look at producing other kinds of films also in Tamil. I think we do need to be cognizant of the market we are catering to and understand the potential of certain subjects.
We would like to do small films like
Vazhakku En 18/9
that are entertaining.
A film like
No One Killed Jessica
was an entertaining film. By 'entertaining', I don't mean masala.
You say UTV looks at films as entertainment but you have made very interesting and different films such as Udaan, A Wednesday, Aamir, etc.
Yes, from
A Wednesday
to
Khosla Ka Ghosla, Aamir
to
Dev D
to
Udaan
to
Barfi!
, they are all entertaining films and also thought-provoking, engaging and issue based.
The audience has to be engaged and entertained and that entertainment need not be song and dance; it can be drama, it can be tragedy... it can be anything.
Do you feel films that go to festivals are not entertainers?

Thankfully, our films have gone to festivals and also entertained the audience. Films like Pe
epli Live, Barfi, Udaan
etc have entertained people and also gone to festivals.
But in Tamil, you have not made any films like that; they were mainly in the commercial format. Why?

See, we have been around for only for 12 months; give us some time. We will try to do our best.
UTV's Spotboy is aimed at new talent. Will you be experimenting with something like that in the south too?

Yes, we are looking at new talent within the framework of the financial framework that makes sense.
How important is the overseas market for you as a majority of Indians outside India are from the southern part of India?
The overseas market is very important to us. We can leverage Walt Disney's distribution network. We would see to it that our movies did as well in the overseas market too.
Where do you want to place UTV in the south?

We just want to make great movies, movies that make money and are liked by people and critics, like
Barfi!
.
Photograph by Sreeram Selvaraj