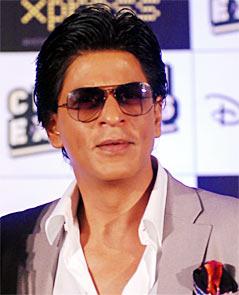 Aseem Chhabra says he will no longer hold his breath for an interview with Shah Rukh Khan. Here's why.

I spent all of Tuesday morning waiting for Shah Rukh Khan to call me. Well, I did do other work but my attention was always partly focused on my cell phone, hoping it would ring.

I was told the interview would take place after 8.30 pm IST, which would be 11 am in New York. But one never knows. Bollywood stars could surprise us and actually be ahead of schedule.

As it happened, he did not call me.

The publicist sent me an email shortly after 11 am. The interview (in fact, all interviews that day for Chennai Express) had been cancelled because of the rains in Mumbai.

This is not really that bad.

People cancel appointments for all sorts of reasons and rains in Mumbai can be problematic.

But it seems like I've spent a lifetime waiting for a Shah Rukh Khan interview.

I first got that feeling in 2005. Khan was in New York, shooting Karan Johar's Kabhi Alvida Na Kehna. I was asked to interview him since he was about to turn 40, so I sent word out through various sources.
One contact -- Ken Naz, who heads Eros International's operations in the US -- invited me to the now defunct Eagle Theatre in Jackson Heights. Khan was going to be at the theatre that evening for the release of Nasreen Munni Kabir's two-part documentaries -- The Inner/ Outer World of Shah Rukh Khan.
Thought it was a rainy and cold night, nearly 2,000 of Khan's young fans showed up at the event.
The press was escorted from a dark alley behind the theatre; inside, he was surrounded by his bodyguards. It was obvious I was not going to get my interview. Instead, I talked to his fans outside and left.
I talked to Kabir about her documentaries and she said something about Khan I will never forget, 'Bahut sharif aadmi hai yeh.' I asked her to get me the interview. She promised she would pass along the word on my behalf.
A couple of weeks later, I met an American couple -- Bombay Jen (that was her Indian name) and Paul Meidinger. They were Bollywood fanatics and had traveled 400 plus miles each way from Western Pennsylvania to New York City to act as extras in Kabhi Alvida Na Kehna.
They had taken this round-trip journey twice just to be close to their favourite stars.
Jen was particularly fond of Abhishek Bachchan -- she said had a strong connection with his soul.
One evening, they dragged me and my photographer friend, Preston Merchant, to the lobby of the Radisson Hotel in the east side of Manhattan. The entire cast of KANK was staying at the hotel and Jen and Meidinger wanted to see the stars one last time before they left for home.
Initially, I protested. I really did not want to spend the evening staring at Bollywood stars from a bar in the hotel's lobby. But they were persistent and, finally, I said okay.
Later, the stars -- Bachchan, Rani Mukerji and Karan Johar -- strolled pass the lobby one by one. Then suddenly, Jen yelled out, "Shah Rukh Khan!"
Merchant and I jumped from our seats and headed out of the hotel where Khan was standing with his young kids and attendants. Suddenly, I felt I was behaving like a crazy stalker. The confidence of a journalist vanished and I could not approach Khan and ask him for an interview. It seemed very inappropriate then.
My efforts to reach Khan through the professional route did work. I got a message from the Rediff office that Khan wanted to talk to me. One of his handlers asked for my New York cell phone number. The next week I carried my tape recorder with me at all times, waiting for the call. And then, I gave up.
Later, in December, I learned that Khan was in Los Angles promoting Paheli, India's official entry for the foreign language Oscar. The film's publicist in Los Angeles promised to get me an interview in LA. Then, she said she would connect me with him in London where he was attending some meetings.
When the interview did not happen, the publicist told me he was heading to Heathrow to catch a flight to Mumbai. She gave me Khan's India's mobile number. I was supposed to text him and then call him in 10 hours, by which time he would have landed in Mumbai.
I waited until 1.30 am New York time and then called him. Khan picked up the phone and it seemed as if he was expecting my call. But he said he was still at the airport and perhaps I could call him a couple of hours later. I tried a few times that night -- essentially lost my sleep -- but no one picked up the phone.
To be fair to Khan, I did interview him in 2010 when he was in New York City promoting My Name Is Khan. But, each time, I am contacted for another interview with him, I remember the fall of 2005.
I have decided I am not going to lose my sleep anymore. If the Chennai Express interview happens, it will be good; otherwise I have enough articles to write.
Shah Rukh, I know you are busy and work a lot harder than I do. If you want to talk to a journalist in New York, you probably know how to find me.
Otherwise, I wish you well.