Home > Movies > Message Board

January 15, 2004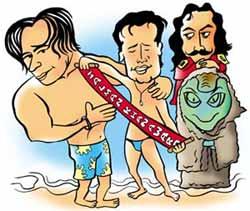 The awards season is in: Screen, Filmfare and the father of all award ceremonies, the Oscars.
So rediff.com decided to hold its own awards too. Only, these are different. And instituted purely because we want to have some fun! Click here to view the winners.
Wait a minute. That's not all. You can create your own awards too!
So send them in to us soon. We would love to hear from you!


What do you think about the story?








Read what others have to say:





Number of User Comments: 7








Sub: awards

glam doll award: this one definitely goes to our own dream girl Hema malini..her dazzling looks in baghban can give any brainless bimbette (aka todays ...


Posted by paroma chakravarty









Sub: An the Award goes to..

1. Salman Khan - For the Best hair style in Tere naam. The best thing after Saadhna Style 2. Amitabh Bachchan for oldest kid for ...


Posted by rahul agarwal









Sub: awards

shahrukh khan and priety zinta have done a great job in kal ho na ho


Posted by shrikant kejriwal









Sub: Awardzzzz

The non-stop irritating award:this definitly goes 2 hritk roshan 4 his faboulously boring n idiotic,immature actin in every insane's fav-koi mil gaya!!sorry if i've hurt ...


Posted by Shiromi









Sub: My rediff movie awards

Heart Rejuvenation Award- Karan Johar, for making his 'weak-heart' hero dance, and dance AND dance in Kal Ho na Ho. Flexible Face Award - Jaya ...


Posted by surekha tenneti venugopal






Disclaimer