Home > Movies > Message Board

April 21, 2004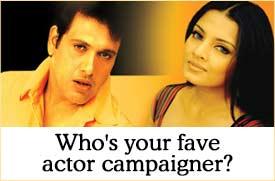 Mirror, mirror on the wall,
Which actor's the best campaigner of 'em all?
It's a star-spangled affair at the elections this year.
While Hema Malini, Yukta Mookhey, Jeetendra, Poonam Dhillon, Smriti Malhotra, and Suresh Oberoi are rooting for the Bharatiya Janata Party, Govinda, Asrani, Celina Jaitley, Namrata Shirodkar, and Om Puri are lending their support to the Congress.
Election fever is catching on. So, here is a chance for you to tell us who is your favourite actor campaigner and why. We would love to hear from you!
Image: Uday Kuckian


What do you think about the story?








Read what others have to say:





Number of User Comments: 10








Sub: Fave Star Campaigner

I believe that Sunil Dutt is the only genuine star capmaigner. This is a human being who has truly worked for many good causes. He ...


Posted by Nazir Patel









Sub: Govinda

Govinda is the best campaigner.....he only respects all the religious peoples.....


Posted by rani









Sub: govinda

Govinda. Cuz he is a nice, committed, righteous, honest & loving human being. James


Posted by james









Sub: Who's your fave star campaigner?

My vote also to Govinda, (may God bless Mr. Naik). Govinda has an appeal in his image with whom the common people can identify themselves. ...


Posted by Saptarshi Ray









Sub: govinda

govinda..... the best entertainer of them all


Posted by neyha srivastava






Disclaimer