Here's a look at some great cellphones and gadgets.
Nokia 8800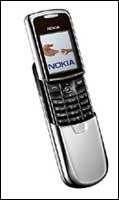 Nokia's latest offering is replete with goodies. It has video recording and streaming, a digital music player and a 3D image engine that enhances graphic images, and an integrated SVGA camera.
Its Bluetooth facilities mean that you can be connected all of the time, and it even has ringtones and alerts composed by award-winning composer Ryuichi Sakamoto.
The Nokia 8800 has a stylish new look as well, with its 'slide-up' mechanism, which also reveals a hidden camera on the back. On top of everything, the window is scratch resistant, so you'll never have to worry about dropping it on the floor again.
Motorola Razr Blk V3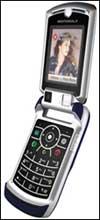 Motorola's got a new version of its Razr V3 on the market -- in black. The Razr Blk V3 is made entirely of metal, including aircraft grade aluminium, has a built-in camera, video recorder and a quad-band technology that will allow you to use it in over 100 countries. Again, this phone is equipped with Bluetooth technology.
So what's new? It's all, apparently, in the look. "The Black Razr V3 is an extension to the chic Razr V3. The all-black version was created especially for Oscar nominees," explains Percy Batlivala, general manager, Motorola India.
Hyundai Plasma TV & LCD
Hyundai's new plasma TV has a host of cutting edge features like high contrast ratio, a digital comb filter and wide angle viewing, all of which contribute to a richer, clearer picture. The LCD TV has integrated stereo speakers, is computer compatible and can reproduce a palette of 16.7 million colours.
Now if only there were something on.
Jaeger-LeCoultre Master Eight Days Perpetual
This manually-wound watch, equipped with a perpetual calendar, comes complete with an eight-day power reserve. The watch has a 41.5 mm diameter case available in either pink gold or in platinum (the latter in a limited edition of 200).
Apart from the artistry of the watch, it also displays a host of information, for instance the date, day of the week, month, four-digit year, phase of the moon -- even the time. And it's been designed with utility in mind, so the face isn't cluttered -- instead, the sapphire-glass case back makes it quite easy to read.