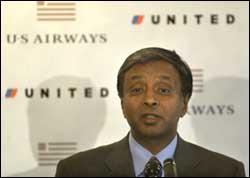 It's said there are only two types of non-resident Indians -- the ones who can't stop grumbling about India and the ones who wake every morning and say they are catching the next flight to Bharat Mata.
Ronojoy Dutta belongs firmly in the second category. "I have a passion for India. There was always an empty feeling in my stomach," he says, placing his hand on his chest.
But Dutta isn't any old NRI hankering for a return to roots. For 17 years he catapulted from one high-flying job to another at United Airlines, the world's largest carrier. In 1999 he finally cruised to the top job and, in the process, earned his wings as one of the top names in the US aviation industry.
Now after more than a quarter century in the New World, the ex-Indian Institute Technology student is doing the unthinkable, reversing the braindrain and returning to a full-time job in India.
This week, he moved into the cockpit at Air Sahara, the four-year-old domestic carrier that wants to outfly the industry biggies Jet Airways and Indian Airlines.
Isn't it a drop in altitude from United with its roughly 560 aeroplanes and networks across the globe, to Air Sahara with its 20 planes that's a distant third in the domestic aviation industry? Dutta, who spent 17 years at United the last three of them as the company's president, certainly doesn't view it that way. He has barely been here a few days but already appears perfectly at home in Gopaldas Bhavan, in Delhi's Connaught Place where Air Sahara is headquartered.
Dutta likes to look at it from another perspective -- that of a pilot readying for take off. The Indian aviation industry, he insists, is hopelessly underdeveloped and the only way to travel is up. "This is one of the fastest growing markets worldwide," he says ebulliently.
Can Dutta turn Air Sahara into a global behemoth that criss-crosses both India and the world? Four months ago he joined Sahara as a consultant and put together a blueprint for growth. "Strategy is my speciality," he says pointing out that he headed United's planning division before taking over as president.
This week the four months of putting the strategy plan together will be followed by letters to airports like London's Heathrow and Singapore's Changi for landing slots. Already the airline is crossing a small stretch of ocean and flying to Colombo. By September it will be winging it to Dhaka and Katmandu.
Dutta has a copybook resume. He grew up in Shillong and moved into the academic fast-track by making it to IIT Kharagpur. From there he hopped across the country and began working for Voltas in Bangalore and Kochi. Finally, however, he took the route that many from the IITs had done before him, and headed for Harvard Business School in 1978.
From Harvard it was a short step to Booz Allen Hamilton, one of the world's top consultancy firms. Other Booz Allen ex-alumni include Rakesh Gangwal, another United hand who went on to head US Airways. Dutta, who was based in Booz Allen's Chicago office dealt with industry leaders like Monsanto.
In 1985 he made the career-changing move to United Airlines, which was then poised to become the giant of the US aviation industry. He started out in charge of crew scheduling and over the next few years he zoomed from one job to another in the airline before taking over as senior vice president in charge of planning. In July 1999 it came as a surprise to nobody when he took over as the airline's president.
Why is Dutta so relentlessly confident that the Indian aviation industry is poised for vertical take off? He points first to international carriers like Lufthansa, BA and Singapore who've all found that the India sector is a moneyspinner like few others in the world.
"Their most profitable routes are to India," he says. "But the capacity isn't coming from the domestic airlines."
The early years as a top-flight management consultant are still evident. Dutta can outline what keeps a good airline in the air in almost professorial fashion.
The key, he insists, are a 'right network structure' and 'good hubs'. Also, he points to how United and Delta triumphed over older names like Pan Am and TWA because they first focused on the domestic market. Similarly, JAL, which focused on its international routes is now being overhauled by All Nippon Airlines which focused on its home market.
And British Airways became a giant only after it took over British Caledonian and gained domestic muscle. "First you have to be a strong domestic player. We don't want to be too fascinated with the international market," he says.
How can a high-flyer trained in United's Chicago school of aviation adapt to flying conditions in India where red tape acts like impenetrable fog that grounds even the most ambitious? Amazingly, that doesn't bother Dutta who insists that globally the airline industry works in tandem with governments.
He argues, for instance, that the Singapore government and Singapore have teamed up to turn the city state into a world financial hub and that India must do the same for Mumbai. Airlines are also huge job creators, he argues. "How do we play our hand? India as a nation has played its hand badly."
Also, he's used to negotiating with governments in every part of the world and once spent months flying in and out of China "At the end the Chinese vice minister and I became good friends."
The '90s were go-go years at United as the tech boom sent the American economy into an entirely new orbit. The flights were always full and the money came pouring in. Unfortunately, for Dutta it didn't last.
The airline's operational costs zoomed and when he took over in July 1999 it was already hemorrhaging. And, after 9/11, when would-be passengers opted to stay on terra firma, United found it was spending four times what it earned to stay in the air daily.
Finally in 2002, after much talk about bankruptcy and Chapter 11 proceedings, the airline's top management was reshuffled and Dutta was forced to quit with a $1.6 million pay out. His expertise was still in heavy demand and the first offer came in a week after he quit United. In the last two years he has been involved in bids for US Airways and Air Canada. Also he was a consultant to Hawaiian Airlines on restructuring.
Will Sahara go into high growth mode now that Dutta has taken over? He damps down such speculation? "Fleet acquisition is the least important part. Sahara has the resources. What's important is the right route structure," he says. But fast growth or not, it's sure that the Indian aviation industry will be watching his every move with hawk-like attention.