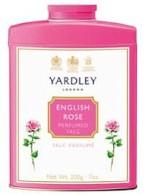 The heritage brand's journey from Bond Street to Sarjapur Road will give a facelift to Wipro's fast moving consumer goods portfolio, write
Bibhu Ranjan Mishra & Ravi Menon
.
From UK's premier thoroughfare Bond Street to Bangalore's Sarjapur Road where Wipro's headquarters is located, the old-line British cosmetics brand Yardley has just covered a huge distance.
The heritage brand was bought by Wipro Consumer Care from Mike Jatania's Lornamead Group for $45.5 million late last week. As the proud new proprietor, Wipro's primary challenge will be to position Yardley for the premium niche consumer bracket across India, Australasia and emerging African markets on the heritage platform. Courtesy brands like Santoor, Wipro already has a substantial presence in the mass market.
Considering the revenue run rate of $24 million Yardley is expecting in fiscal 2010, Wipro paid a premium of almost 1.9 times for this acquisition. Will that pay off? "Yardley addresses the top end of the market rather than the middle, which is addressed by Wipro's other products. The price they (Wipro) paid for this acquisition is motivated by Yardley's brand value which is very high in markets like India and West Asia, though this could have been diluted over time," says brand consultant Harish Bijoor.
Nagender Arya, regional director (East Asia, Middle East and Africa), Wipro Consumer Care and Lighting, says that the company's decision to acquire Yardley businesses outside of the US and UK markets was because its FMCG business is focused primarily on the Asian and emerging markets.
Yardley of London's lavender powder and perfumes first catapulted the British brand into the Indian consumer's mindspace, while the skin and hair care range, the bath and body products, still crave the indulgence of an adoring market.
Jeysha, a media professional in her late thirties, recalls how her father during the 1990s brought Yardley perfumes home which the family stashed away safely in their cupboards. Special occasions like marriage in the family or a party warranted a grand uncorking of the Yardley spirit.
Spraying and preening done, the perfume bottles would be locked away securely until the next big event. Years later, Jeysha's bond with the Big Y of Bond Street remains intact; her shopping bills on occasional trips to London are incomplete without the Yardley legend on them.
British consumers, however, would not necessarily strike a chord with Jeysha's Yardley obsession. The UK market has been the rearing ground for heritage brands like Charlie and Jovan Sex Appeal, too. Experts tracking the personal care segment note that the market for such products in the UK has been evolving and people have slowly moved out of the heritage brands.
Clearly, Asia and other emerging markets are the new hunting ground. This partly explains why Wipro decided not to stock up on Yardley's UK and US assets, but went in for the company's other operations by paying a premium.
Before pushing Yardley on shelves across the Asian markets, Wipro will first grow it in India, which accounts for only 19 per cent (barely Rs 20 crore) of Yardley's Rs 100-crore business in geographies outside the UK and US. "We certainly want to grow the Yardley business in all Asian countries. But before that, a lot of work needs to be done in India, and we understand the Indian market," Arya says.
Wipro's consumer care business carried out five acquisitions last year. These now contribute about 55 per cent of its consumer care revenues. The business is driven primarily by the flagship soap brand Santoor -- an inhouse brand around which the company has a cluster of variants.
The Yardley acquisition is not strictly big ticket, like Singapore's Unza Holdings last year, but it is expected to have a positive impact of 50 basis points on the topline from the fourth quarter of this fiscal.
"Yardley affords them an extension into a premium category, though it may not be a big revenue generator like Santoor. The objective is to take a different, though relatively premium brand, and complete the portfolio," said Anand Ramanathan, who advises FMCG companies at consulting firm KPMG.
Says Ashish Dhir, Associate Director of KSA Technopak, a retail advisory firm, "In the luxury segment, the cost of manufacturing a product may be minuscule in comparison with the final price. Hence, higher margins can be realised faster. Yardley is a high margin product with a brand commanding market trust."
Ramanathan of KPMG says India's third largest software exporting group has gained the breadth required to address all segments of the market. "Wipro's distribution network can help them revitalise the brand with the infusion of further investments," Ramanathan says.
The consumer care business contributes just about 9 per cent of Wipro's topline. However, margins from this business have risen to about 13 per cent in recent quarters. Yardley can drive margins higher, though crosswinds from the sheer volumes of Santoor and Chandrika could slow it down.