Yahoo has named Marissa Mayer, one of Google's top executives, as its new President and CEO, making her the third chief executive in a year that the struggling internet company has brought on board to turn the its fortunes.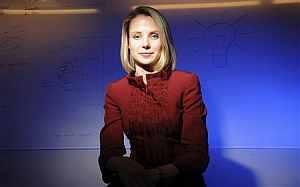 Mayer, 37, will assume her new position effective July 17, and will replace acting Chief Executive Ross Levinsohn.

Yahoo said Mayer's appointment "signals a renewed focus on product innovation to drive user experience and advertising revenue" for the company.

The internet company has been struggling in the view of stiff competition from rivals like Google and Facebook. Yahoo has appointed five chief executives, including two interim CEOs in less than a year.

Mayer said, "Yahoo's products will continue to enhance our partnerships with advertisers, technology and media companies, while inspiring and delighting our users. There is a lot to do and I can't wait to get started."

Mayer was vice president for local, maps, and location services for Google. She joined Google in 1999 as its 20th employee and the first female engineer, leading efforts for several Google products, including the development of its flagship search product and iconic homepage for over 10
years.
A Stanford University alumnus, Mayer launched more than 100 features and products including image, book and product search, toolbar, iGoogle, Google News, and Gmail – creating much of the "look and feel" of the Google user experience.
She also curated the Google Doodle programme, which celebrates special events on Google's homepage around the world.
Yahoo co-founder David Filo said Mayer is a "well-known, visionary leader" in user experience and product design and one of Silicon Valley's most exciting strategists in technology development.
"The Board of Directors unanimously agreed that Marissa's unparalleled track record in technology, design, and product execution makes her the right leader for Yahoo at this time of enormous opportunity," said Fred Amoroso, Chairman of the Board of Directors.
Prior to joining Google, Mayer worked at the UBS research lab in Zurich, Switzerland. She serves on the board of directors of Wal-Mart and is also on the board of various non-profits, including the San Francisco Museum of Modern Art, the San Francisco Ballet, and the New York City Ballet.
Image: Marissa Mayer/Credit:

Noah Berger/Reuters