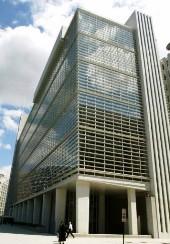 The World Bank has debarred three Indian companies and one individual from participating in its projects, saying that they indulged in fraudulent practices while doing business with it in the country.


Pharma firm Ambalal Sarabhai Enterprises Ltd, Mumbai-based Chemito Technologies, New Delhi-based Global Spin Weave Ltd and its director Sudhir Agrawal, have been banned from participating in any World Bank-financed or executed projects.


The debarments followed inquiries by the World Bank's Integrity Vice Presidency, which is responsible for investigating fraud and corruption in World Bank-financed projects.


World Bank said that Ambalal Sarabhai Enterprises and Chemito, which is mainly into purification solutions, have been debarred for engaging in fraudulent practices related to food and drugs capacity building project.


The two entities have been debarred for a period of three years starting from September 20, 2010, according to a recent World Bank statement.


Global Spin Weave and Agrawal were found to have indulged in fraudulent practices related to three World Bank-financed initiatives -- First Reproductive and Child Health project, Second National HIV/AIDS Control project and Malaria Control project.


The three companies would be 'ineligible to be awarded contracts under any Bank Group-financed or Bank Group-executed project or otherwise participate in the preparation
or implementation of such projects. . .,' the statement noted.
The ban on Global Spin Weave would be for three years while Agrawal would be debarred for a period of five years. Both debarments are effective from September 20, 2010.


In January 2010, World Bank banned conglomerate Videocon Industries from doing any business with multilateral lender for violating 'procurement guidelines', for a period of three years, beginning January 11, 2010.


Further, two Kolkata-based firms B R & Sons and Hemant Tibrewal, and three Delhi-based entities -- Om Prakash Jindal, Upasana Jindal and S M Scientific Instruments Pvt Ltd -- were also debarred this year by the World Bank.


In January 2009, World Bank disclosed that it had banned three Indian firms -- Satyam Computer Services, Wipro Technologies and Megasoft Consultants -- from receiving direct contracts from the Bank group under its corporate procurement programme.


Satyam was debarred for a period of eight years starting September 2008 while Wipro was banned for four years starting June 2007.


The World Bank debarred MegaSoft for four years, beginning December 2007.