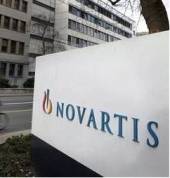 Swiss pharma major Novartis said on Monday it will not invest on research and development in India and move R&D to favourable destinations following the Supreme Court order rejecting its patent plea on cancer drug Glivec.

The company will continue to introduce products in the country, but not invest in R&D here, Novartis India Ltd Vice-Chairman and Managing Director Ranjit Shahani said at a press conference in Mumbai.

Novartis will move R&D investments to favourable destinations, he added.

Shahani said the company will, however, keep filing patent applications for innovative products and continue to invest in India 'but cautiously'.

The Supreme Court on Monday rejected Swiss firm Novartis' patent plea for its cancer drug Glivec.

A
bench of justices Aftab Alam and Ranjana Prakash Desai dismissed the claim of the Swiss firm for getting exclusive rights for manufacturing the cancer drug on the ground that a new substance has been used in the medicine.
While a one-month dose of Glivec costs around Rs 120,000, generic drugs, manufactured by Indian companies for the same period are priced at Rs 8,000.
The Indian Patent Office had rejected the patent application of Novartis for the ß-polymorphic form of imatinib mesylate on various grounds in 2006, including that a patent could not be granted for the ß-polymorphic form under section 3(d) as it did not have any increase in efficacy over the previously known substance.
Novartis appealed against the rejection of the patent by the Patent Office before the Intellectual Property Appellate Board in 2007, but the appeal was dismissed in 2009.
Aggrieved by this dismissal, Novartis went to the Supreme Court which has now confirmed the rejection of the patent.