International retail giant Tesco's USD 110-million or Rs 700-crore ( Rs 70 billion) investment proposal, the first by a foreign chain to operate multi-brand retail stores in India, is likely to take time.
This is because of the Centre's condition that Tesco's Indian partner, Trent Hypermarket, must first divest stake in its 'Star Bazaar' stores across states opposing foreign investment in multi-brand.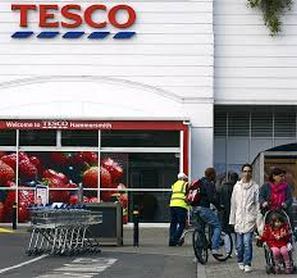 The Star Bazaar stores that Trent, a Tata group entity, needs to divest stake in are located in Gujarat (two in Ahmedabad and one in Surat) and Tamil Nadu (one in Chennai).
The chain's first store was set up in Ahmedabad in 2004.
Both the Bharatiya Janata Party (BJP), which is in power in Gujarat, and the All-India Anna Dravida Munnetra
Kazhagam (AIADMK), which rules Tamil Nadu, are opposed to foreign players setting up shop in their states.
However, in a recent address, BJP's PM candidate and Gujarat Chief Minister Narendra Modi refused to spell out his stand on FDI in multi-brand retail.
He, instead, asked traders to compete hard with big brands, including multinationals.
Tesco, as well as Trent, refused to reply to a questionnaire sent by Business Standard on the status of divestment of stake in stores across Gujarat and Tamil Nadu.
According to industry sources, since both Tesco and Trent are listed entities, shareholders' approval will have to be taken and a due-diligence process followed for divestment of stake in the existing stores. So, any foreign investment in a new venture will take a long time.
Besides the Gujarat and Tamil Nadu stores, Star Bazaar has nine outlets in Maharashtra (three in Mumbai, four in Pune, and one each in Aurangabad and Kolhapur), besides three in Karnataka (all in Bangalore).
While Karnataka goes to polls in May 2018, elections for the Maharashtra Assembly are scheduled for December 2014. The multi-brand retail policy allows states to decide whether or not they want foreign retailers to open stores on their soil.
In its proposal to the Foreign Investment Promotion Board (FIPB), in December last year, Tesco had told the government it would invest in Karnataka and Maharashtra, both favouring retail FDI, for a 50 per cent stake in a joint venture with Trent Hypermarket. It would open four to five stores in the country every year, according to the proposal.
FIPB, while clearing the application the same month, had put the condition that Star Bazaar's "three stores in Gujarat and one in Tamil Nadu must be divested by Trent Hypermarket prior to the investment by the foreign investor in Trent".
The FIPB clearance was also conditional for another reason — the investee company was told to approach the Maharashtra government for permission to continue to operate the Kolhapur store, as the city has population of less than one million according to the 2011 census. The norms for multi-brand retail allow FDI only in cities with population of more than a million; the states concerned take a call on cities with fewer people.
HURDLES ABOUND
* Sep '12: Cabinet permits up to 51% FDI in multi-brand retail but foreign majors stay away due to tough sourcing rules and state-by-state clearance
* Policy conditions include 30% mandatory sourcing from Indian MSMEs, investment of at least $100 million in new projects within the first three years (50% of this in building back-end infra)
* Dec '13: UK's Tesco and Tata group's Trent Hypermarket file an application to set up a 50-50 venture for operating multi-brand retail stores in India
* Tesco proposal is for operating stores only in Karnataka and Maharastra, as these are pro-FDI states
* Walmart was expected to be the first mover, but Tesco's application comes before any other
* FIPB approves the $110-million Tesco proposal