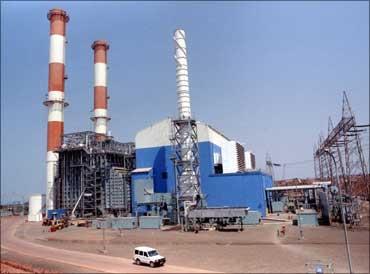 Ratnagiri Gas and Power Pvt Ltd, operator of the beleaguered Dabhol power plant, has sent an urgent message to the Power Ministry saying that it may become a non-performing asset unless domestic gas supplies are restored or Maharashtra agrees to buy electricity produced from costlier imported gas, LNG.

The 1,967 MW plant has not been operating since August because of stoppage of natural gas supplies from domestic fields.

Compounding its woes, Maharashtra State Electricity Distribution Company Ltd, which bought most of the electricity produced at the power station, has not paid Rs 741 crore (Rs 7.41 billion) in power bills.

RGPPL Managing Director R K Srivastava last month wrote to the Power Ministry saying that the current situation was "straining the company's ways and means and would make it difficult to meet its operating expenses and debt servicing obligations".

"The company could not meet it interest payment due on September 1," he wrote, adding the situation arose because of payment default by MSEDCL.

The company has Rs 8,436-crore (Rs 84.36 billion) debt.

RGPPL, a joint venture between gas utility GAIL and the nation's biggest electricity generator NTPC, shut the Dabhol power plant after gas supplies from Reliance Industries' KG-D6
fields stopped.
Srivastava said RGPPL was accorded priority at par with fertiliser plants for receipt of KG-D6 gas. Dabhol was allocated 7.6 million standard cubic meters per day of gas from KG-D6 but never received more than 3 mmscmd during three years of operations.
Fuel supplies to Dabhol have stopped while fertiliser plants continue to get KG-D6 gas, he said.
KG-D6 gas first goes to meet demand of first priority customers.
Other customers like power plants get the fuel only if there is surplus after meeting the needs of fertiliser plants.
Since the present KG-D6 output is barely sufficient to meet fertiliser requirements, no gas flows to power plants.
Dabhol was given equal priority as fertiliser but the equal footing was never implemented.
He said RGPPL is ready to operate the plant on imported liquefied natural gas but MSEDCL has indicated it will not be able to buy the costlier electricity generated from it.
Also, it is unwilling to pay annual fixed cost of Rs 2,000 crore (Rs 20 billion).
"Unless the issue of adequate affordable domestic gas is ensured quickly or MSEDCL commences payment of capacity charges for capacity declared on (imported) LNG, the company may not be able to meet its operating costs and service its debt, thus facing the prospects of become a non-performing asset," he wrote.