Finance Minister P Chidambaram concedes that delay in decision-making has extracted a price from the United Progressive Alliance government but asserts that the Cassandras who predict the current account deficit (CAD) and the rupee will spiral out of control would be proved wrong.

"I will finance the CAD fully and safely this year," he said in an interaction with Business Standard. "When you said I couldn't control the fiscal deficit, I presented a Budget that proved you wrong. I will prove you wrong again on the CAD."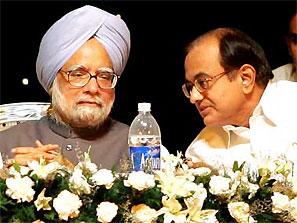 Chidambaram said there was no tension between the finance ministry and the Reserve Bank of India (RBI), adding, however, that RBI's autonomy is limited to issues relating to monetary policy. He noted the RBI Act even had a provision for the government to give written directions to the central bank on matters other than monetary policy, if the situation so warranted. "It is another matter that we have never used this provision."

As the majority shareholder of public sector
banks, the Government of India was well within its rights to decide policy on banks, the minister added.
Like many other countries, India was also taking steps to beckon investors, he said, while noting there was not that much investible surplus available in the world. Given the performance of even developed countries, the Indian story — growth at more than five per cent this year and an average rate of growth of 7.5 per cent over nine years — was pretty good.
What would be the economic policy of the UPA if it came to power again? "We will have policies that will combine a passion for growth with compassion for the poor," Chidambaram said, asking readers to "wait for our manifesto". He trashed the opposition National Democratic Alliance (NDA)'s claims of a "golden era" during its rule. The lowest growth in India after the turn of the century, he said, had been posted during the NDA's rule.
Chidambaram said the greatest source of confidence was the sterling performance of the agricultural sector this year. He predicted agricultural credit offtake would surpass all estimates, running into Rs 7 lakh crore (Rs 7 trillion).