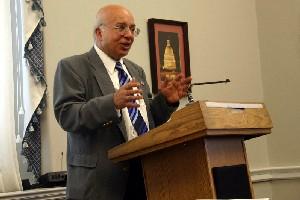 Dr Vijay Sazawal, director, government programs, United States Enrichment Corporation, Inc, a leading supplier of enriched uranium fuel for commercial nuclear power plants worldwide, has been appointed by Secretary of Commerce Gary Locke to serve on the Civil Nuclear Trade Advisory Committee for two years.

The committee will provide advice on 'trade issues facing the US (United States) civil nuclear industry for use by me and other department of commerce officials in our roles as members of the Civil Nuclear Trade Working Group of the Trade Promotion Coordinating Committee,' Locke said in the letter appointing the Srinagar-born and Maryland-based Sazawal, 64, to the committee.

'CINTAC will provide consensus advice on the development and administration of programs and policies to expand US civil nuclear exports and strengthen the competitiveness of the industry.'

Sazawal, who came to the US in 1970 and holds a doctoral degree in structural mechanics from the Michigan Technological University, has more than 35 years of experience in the nuclear industry.

"I have participated in the US civilian and defense nuclear programs covering the entire nuclear fuel cycle, and an array of reactor designs that have included conventional and space based reactors, and black programs," he told India Abroad.

"When the US and India, during the Bush administration, began to negotiate a civil nuclear agreement, my input and advice was sought by the state department and the department of energy, and I was involved briefly in the Track-2 discussions, preceding the completion of the 123 Agreement with India.

I have since participated in the promotion of US nuclear export trade and given technical lectures to the legal community, advising companies on nuclear export controls. This appointment is a logical culmination of my efforts in the last few years to help US exports in civil nuclear trade to India and other major markets in the world. I am thankful to Secretary Locke for selecting me."

After his doctorate, Sazawal joined Westinghouse Electric Corporation as part of the team working on the Clinch River Breeder Reactor Project. He was with the company for 20 years.

He also worked with international nuclear industry leader COGEMA Inc, now Areva NC, for seven years as vice president of engineering and technology.

At USEC, which he joined in 2002, Sazawal provides corporate program oversight; coordinates government projects; analyses the impact of federal budgets, policies and regulations of various USEC activities; and interfaces with federal officials and Congress members.

He is a member of the management team involved in the American Centrifuge Project, an initiative to build state-of-the-art centrifuge nuclear enrichment plants based on American technology.

Sazawal, a Kashmiri Pandit, is also a longtime advocate on behalf of his community members who have been driven out of Kashmir.

A co-founder of the Indian American Kashmir Forum, he has lobbied feverishly on Capitol Hill to draw attention the Pandits' plight.

He was instrumental in urging Senator Sherrod Brown, Ohio Democrat, to take up their case with the state department about a decade ago, when the latter was a Congressman, and include it in the department's annual compendium of human rights worldwide report.