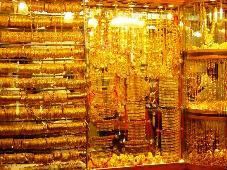 As much as $70 billion of gold was traded through Dubai during 2012, a Dubai Multi Commodities Centre official has said.

Speaking at Dubai Precious Metals Conference 2013, DMCC Executive Chairman Ahmed bin Sulayem said Dubai has risen as a major global gold and precious metals trading destination, with over 20 per cent of the world's physical gold imported and exported through the Emirate.

"The value of gold traded through Dubai in 2012 was $70 billion, compared to USD 6 billion in 2003," Sulayem said.

"By building financial and physical infrastructure and developing the right
regulation in line with international standards, DMCC has established Dubai as a major bullion centre and a global gateway for commodities trade," Sulayem said.
DMCC officials also revealed plans of developing the city's local and regional banks into bullion banks to address the needs of suppliers in Africa and consumers in India.
The third Dubai Precious Metals Conference will be held in April 6-7, 2014, an official statement said.
". . .We thank our members, key trading partners, and industry participants for their valuable inputs and we look forward to hosting the third Dubai Precious Metals Conference in April next year, Gautam Sashittal, Chief Operating Officer, DMCC, said.