Commerce Secretary Gary Locke has appointed Purnima Voria, founder and chief executive officer of the Denver-based National United Stat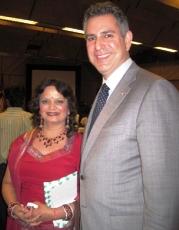 es India Chamber of Commerce, to a new National Advisory Council on Minority Business Enterprises.

Ajmer-born, Jaipur-raised Voria, who immigrated to the US in 1977 with her mechanical engineer husband Ramnath Voria, will be part of a 25-member Council, representing small businesses to multinational corporations from a broad range of industries.

The Council, which will function under the aegis of the commerce department's Minority Business Development Agency, is the first council convened to focus on promoting the minority business community.

The new council will advice the administration on a broad range of policy issues affecting the minority business community as part of the Obama administration's focus on creating new jobs and strengthening the economy.

Recent census data has shown that the number of minority-owned firms is growing at a significant rate, yet the gap in revenue between minority-owned and non-minority-owned firms is substantial, the commerce department said, adding that disparities in access to capital have also been documented in a recent report commissioned by the MBDA.

"A strong and vibrant minority business community is absolutely essential to the growth of the US economy," Locke said. "I look forward to working with the advisory council to identify new and innovative ways the public and private sector can help spur growth among minority-owned firms."

"The nation's 5.8 million minority-owned firms have significant untapped potential," said David A Hinson, national director, MBDA. "The advisory council has an opportunity to shape future policies and programmes that will set the foundation for the growth of $100 million companies across all industries that are owned and operated by US minorities."

"I look forward to serving our nation that has given me so much," Voria told India Abroad.

"I would be very interested in supporting the President's agenda of increasing exports to India, encouraging Indian business leaders to set up manufacturing plants in the United States to create jobs for our citizens and encouraging Indians to participate in the President's EB5 initiative."

The EB5 immigrant visa programme allows foreigners to invest $500,000 or more in US businesses or create a business in America that employs at least 10 US jobs, to be eligible to apply for permanent residency after two years for themselves, their spouses and children.

Voria, who was part of the US-India Business Council's executive mission to India during President Barack Obama's visit there, said: "I was privileged and glad to be the one voice that represented the SME's (small and medium enterprises)
and the minority business enterprises for they are the ones that need the most help. I strongly believe that for the next 20, 30 years, it is going to be the SMEs and the MBEs in the satellite cities that will drive the next wave of economic development around the globe and churn our economy and the world economy."
"Minorities need serious help because of the disparity - they are underrepresented, have low resources and no budget to prepare themselves to global borderless trade and commerce between countries and there is a real fear that the competition will eat them up," she added. "This is what I will be pushing for."
Voria bemoaned the "serious disconnect between minority businesses and our major corporations".
"The need is identified and the solution is there, but we need serious implementation of this solution and this council can be a catalyst," she said. "To help expand minority-owned firm participation in emerging industries, we need to equip them with education needed for them to do so and to thrive, along with the right strategic planning."
She said she would also push for the commerce department "to establish criteria and strategies for gaining access to global supply chains of major corporations".
At the local level, Voria wants to push for Colorado companies to increase their business profile in India.
A homemaker before she launched the NUSICC five years ago, Voria was motivated by the bad rap India was getting as an outsourcing hub.
"I started the Chamber to disseminate information about the opportunities in India for Colorado companies, which by exploring the Indian market could also generate jobs in Colorado and make it a win-win situation," she said.
She added that she would soon meet Governor-elect John Hickenlooper and urge him to lead a Colorado trade mission to India, because the potential for Colorado firms in satellite Indian cities such as Pune and Hyderabad is immense.
India was Colorado's 18th biggest export market this year, recording a 22 per cent growth after falling in 2008 and 2009.