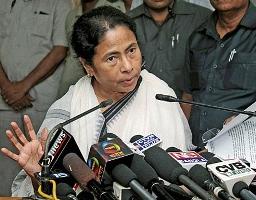 Trinamool Congress on Thursday accused the United Progressive Alliance government of denying funds to West Bengal and demanded immediate release of money for central schemes like Mahatma Gandhi National Rural Employment Guarantee Act and Sarva Shiksha Abhiyan.

"The Centre should immediately consult Chief Minister Mamata Banerjee and urgently release the funds due under various central schemes," the party's parliamentary leader Sudip Bandopadhyay said in New Delhi.

Observing that Trinamool Congress had 'inherited an already bankrupt' state, he said the funds under schemes like MGNREGA and Sarva Shiksha were due but not released to the state.

Delivering a speech at a rally in Jalpaiguri on Wednesday, West Bengal Chief Minister Mamata Banerjee accused the Congress-led UPA government of denying funds while spending 'so much money' for its advertisement campaign.

Accusing the Congress of deliberately depriving the state, she had said, "We will realise our right. . . We do not want any alms.

"We will not beg before the Centre."
Image: Mamata Banerjee