As part of its six-month action plan to arrest the surge in food prices, the Centre will set up a price-stabilisation fund and make offences under the Essential Commodities Act non-bailable.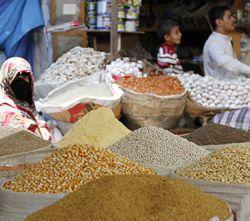 Officials said the price stabilisation fund might be announced in the coming Budget.
These decisions, as well as those to set up a central pool of onions and extend the items sold through ration shops to edible oils, etc, were arrived at after a day long meeting on Friday between Food Minister Ram Vilas Paswan, Finance Minister Arun Jaitley, Agriculture Minister Radha Mohan Singh and state food ministers and officials.
"The price stabilisation fund will be created by the Centre. State governments that decide to purchase fruit and onions to sell to consumers at cheap rates will be subsided through that fund," Paswan told reporters after the meeting, adding work on establishing the fund would begin in a week.
The Essential Commodities Act would be implemented strictly, he said. "To give more teeth to the Act, offences under it will be made non-bailable."
Jaitley blamed hoarders for the recent spurt in food prices. "According to the feedback we have got from state ministers, there is no need to panic," he said after the meeting.
Radha Mohan Singh asked state governments to focus on strengthening market integration, information and infrastructure. He said the Centre was also contemplating importing potatoes to reduce prices.
At the meeting, it was decided district commissioners and collectors across cities and towns would be empowered to monitor the availability and prices of essential commodities.
Other decisions included mapping of areas prone to supply shortages by state governments, mobilising storage capacities lying unused with the government and private and cooperative societies, and establishing a price monitoring cell in every state by the respective governments to enable real-time monitoring of retail and wholesale prices.
For this, the joint secretary (consumer affairs) in the Union government will be the national focal point; in every state, the commissioner of food and civil supplies will be responsible for effective implementation of the six-month agenda.
Representatives from about 25 state governments, as well as Najeeb Jung, Lt Governor of Delhi, spoke at Friday's meeting. Citing the rising inflation, officials of some Congress-ruled states criticised the Centre.
Maharashtra food minister Anil Deshmukh said, "The Centre is trying to escape from the responsibility of controlling inflation. It wants to put all the blame on state governments. The full responsibility of controlling inflation lies with the Centre. States will definitely help the Centre."
While Bihar food and consumer affairs minister Shyam Rajak said the law against hoarding should be made more stringent, Odisha food supplies and consumer welfare minister Sanjay Kumar Das Burma demanded a ban on onion exports, saying the current minimum export price (MEP) didn't have much of an impact. Earlier this week, the MEP was raised from $300 a tonne to $500 a tonne.
The price of onions in retail markets in Delhi has increased to Rs 31 a kg from Rs 21 a kg last month.
Consider raising foodgrain entitlement: Officials
Central government officials have said the government could consider increasing foodgrain entitlement from the current five kg a person a month under the food security Act, as suggested by some states.
The Centre has urged states to mandatorily include Scheduled Castes and Scheduled Tribes, barring a few prosperous ones.
Please click here for the Complete Coverage of Budget 2014 -15