UK home secretary Theresa May, the driving force behind plans to introduce a controversial 3,000 pound visa bond for visitors from certain countries including India, has admitted the scheme remains deadlocked due to coalition doubts.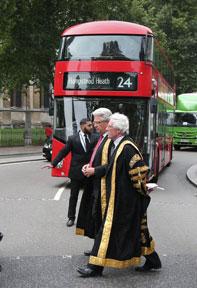 Addressing the ongoing Conservative party conference in Manchester on Monday, the senior minister expressed her frustration with the country's Liberal Democrat ruling coalition partners as a November deadline for a pilot launch of the scheme nears.
"It's a simple idea – the government should be able to take a 3,000 pound deposit from temporary migrants and return it when they leave. If they overstay their visa, they'll lose their money," she said in her speech.
"They (Lib Dems) were for them, then they were against them...then they were for them, and now they're against them," she added.
The flip-flop by the government has led senior British Indian MP Keith Vaz to revive his demand that the government end all confusion over the issue.
The Labour leader and chair of the influential parliamentary Home Affairs Select Committee said: "The immigration bonds policy is in tatters...When this story first emerged I warned that this policy was unworkable, discriminatory and impracticable. This confusion is very unhelpful.
"There is a high level of anxiety and uncertainty in India and other countries about the government's future plans for this issue. Despite an attempt to drop this policy, the damage has already been done."
The UK government had unveiled plans for such a refundable bond scheme earlier this year, expected to affect visitors from countries like India, Pakistan, Bangladesh, Sri Lanka, Nigeria and Ghana.
Indian ministerial circles had raised strong objections over India being included on the list of so-called "high risk" nations and sought full details on the application of the scheme.