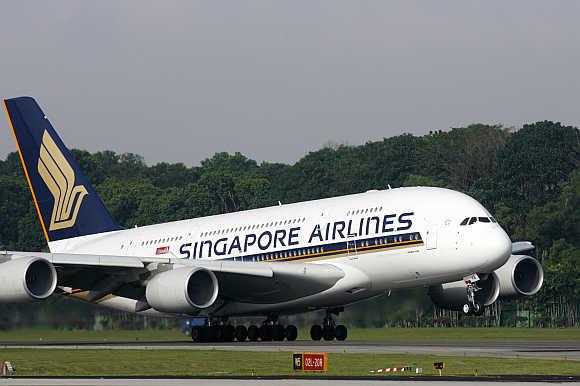 Tata Sons and Singapore Airlines (SIA), which recently received a no-objection certificate from the ministry of civil aviation to start a full-service airline (Tata-SIA Airlines), are in the process of securing an import licence for 20 Airbus A320 aircraft.
The airline is also talking with the ministry of home affairs (MHA) for security clearances for foreigners to be appointed in the core project team, after which it would apply to the Directorate General of Civil Aviation (DGCA) for a scheduled air operator's permit.
A source in the airline said, "Our domain heads meet every fortnight to assess the preparedness to begin operations. We are 70-90 per cent ready. We will now apply for an import licence for 20 aircraft. We want to have our documentation in place and procedural requirements in order before applying to DGCA. It would take a couple of weeks."
MHA has okayed appointment of three board members — Chairman Prasad Menon and directors Mukund Rajan and Mak Swee Wah. However, the airline is yet to receive clearances for Phee Teik Yeoh (tipped to be the chief executive) and Glamming Toh (expected to be the chief of commercial operations).
"We have not yet appointed the CEO formally because he is yet to get a clearance from the ministry of home affairs," the source said.
Industry insiders said a significant factor prompting the Tata-SIA venture to conclude all procedural requirements meticulously before approaching regulatory authorities is the delays being faced by the Indian conglomerate's other joint venture with AirAsia. The low-cost carrier had applied to DGCA for a permit on October 4 last year but is yet to receive a certificate to begin operations due to non-fulfillment of procedural requirements.
Tata-SIA has already finalised a project team to lead its Indian operations. While all operational functions would be steered by executives from Singapore Airlines, senior executives from Tata Sons, holding company of the group, would take on managerial responsibilities.

A second person close to the airline said, "A key reason for forming an alliance with SIA was their operational expertise. Domains such as flight and commercial operations would be headed by executives from SIA. The Tatas would contribute with their strength in managerial areas in finance, human resource and legal departments."
Besides, Phee Teik Yeoh and Toh (former India general manager), Roshan Joshi (former head of the flight operations, safety and security department at SIA) has been appointed senior vice-president (operations) of the new airline.

Joshi, also an instructor on Boeing 747 and Boeing 777 fleets, was involved in developing safety and quality management systems in the parent airline. The airline has also selected Tata group executive Niyant Maru as chief financial officer (CFO). He currently serves as CFO at Tata Realty and Infrastructure. S Varadarajan, former head of human resource at Tata Teleservices, is heading human resource at the new airline.

A legal head is yet to be appointed. Pilots and other employees still need to be recruited.
A spokesperson at Tata-SIA said, "We are interviewing pilots and other employees but have not hired anyone. Recruiting people at this point of time will only add to our payrolls."
The airline will lease 20 Airbus A320 from BOC Aviation. Tata-SIA declined to share a schedule of aircraft arrivals but senior government officials said the airline was likely to start operations with four A320s and a staff of 400-450.
The airline had earlier said it wanted to fly by mid-2014 but as it hasn't yet applied for a permit, experts said operations were unlikely to start before the winter schedule of this year.
Tata Sons had partnered SIA on September 19 to launch a full-service carrier in India at an initial investment of $100 million. The Tatas will be the driving force, with a 51% stake. SIA would take the rest for $49 million.
The airline has made Delhi its operational hub because of the huge capacity constraints in the Mumbai airport. Tata SIA has said it would like to operate international flights from India depending on government approvals.
Government rules do not allow domestic airlines less than five years in operations and with a fleet of less than 20 aircraft to start international operations.
The ministry has drafted a cabinet note to change the policy. The Tatas have a partnership with Malaysian carrier AirAsia for a low-cost airline, likely to start operations in India later this financial year.