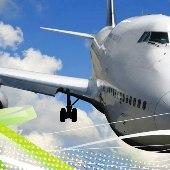 A battle between two leading online travel portals over charges of manpower poaching has snowballed into a full-scale criminal case over data theft, dragging senior employees of the accused company.
It all began a few months ago when some employees of online travel portal, Travelocity, joined a rival company, Cleartrip. This, according to Cleartrip, provoked Travelocity to file a case against it accusing it of data theft.
While Cleartrip has accused Travelocity of vindictive action, Travelocity has described these charges as baseless. The trading of charges and countercharges began after Travelocity acquired TravelGuru, which already had a subsidiary company, Desiya Online Distribution.
"Travelocity's complaint is vindictive and arises out of the fact that three of their executives chose to join Cleartrip after the acquisition. In what may at best (if at all) be a commercial dispute, Travelocity has resorted to filing a criminal complaint," said a spokesperson at
Cleartrip.com
. "Cleartrip has cooperated fully with the investigating authorities and will continue to do so."
However, Travelocity has termed these charges of manpower poaching as baseless. "Anyone can say anything but we are a large company and many of our employees leave us to join competition. We do not keep filing criminal complaints every time," said Travelocity managing director Himanshu Singh.
STORY SO FAR...
November 2006: Travelguru acquires Desiya
August 2009: Travelocity acquires Travelguru, India's largest hotel network
September 19, 2009: Desiya MD Amit Taneja resigns
December 11, 2009: Travelocity files an FIR accusing Cleartrip CEO and senior Desiya Online Distribution officials of data theft
December 20, 2010: Chargesheet filed
"As
the case is sub judice, I would not like to comment but the fact that the police has filed a chargesheet proves that there is something wrong," Singh added.
In its first information report, filed at a Gurgaon police station, Travelocity India had accused Cleartrip's chief executive officer, Stuart Crighton, of conniving with senior officials of Desiya Online Distribution to commit data theft, which caused it business losses.
Travelocity had also alleged that employees of Desiya Online Distribution -- managing director Amit Taneja, regional manager (north) Sanjeet Singh and travel consultant Imran Ansari -- had passed on data to Cleartrip.
The FIR also had a list of alleged email communications between the Cleartrip CEO and Taneja.
The charge is breach of the Information Technology Act, 2000.
On December 20, 2010, the Gurgaon Police filed a chargesheet in the case, accusing all the officials named in the FIR, including Crighton, of data theft.
"We had sent the laptops and BlackBerry phones of the accused to the forensic lab.
"On the basis of the report from the lab, we have accused all of them in the data theft case in the chargesheet and given to the court," said Assistant Commissioner of Police Surender Singh, who is leading the investigations.
"Cleartrip CEO Stuart Crighton has also been found accused and the court will now fix a date for the hearing of the case," Singh added.
Cleartrip is one of the top three online travel agencies in India, with a 35 per cent market share, and Travelocity offers online travel services and is present in 40 countries, with websites in 12 languages.