With "profitable growth" replacing "expansion drive" as the buzzword in the sector, the country's top private life insurers have significantly reduced branches and employees over the last couple of years to cut costs and improve efficiency.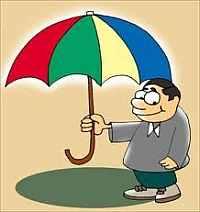 ICICI Prudential, the second largest private life insurer in the country, has reduced its branches by nearly a half from 1,923 to 1,000 in the last two years. The top six private insurers, barring SBI Life, reduced nearly 30 per cent of branches, while the headcount was scaled down 27 per cent in the same period. Interestingly, the profits of all these players doubled over the last two years.

Insurance companies have different takes on the matter, terming it "right sizing" or "smart usage of realty" or "efficient utilisation of space" but the move to rationalise branch networks was a direct fall-out of the stringent regulations introduced by the Insurance Regulatory and Development Authority (Irda) in September 2010. The Irda had raised the lock-in period and  the insurance cover on the popular unit-linked products.

Top private life insurance players like Max New York Life, HDFC Life, Birla Sun Life, Aviva Life, Tata AIG Life and Bharti AXA Life all reduced their branch network between 18-250
in the last couple of years.
However, in the same period, SBI Life, the second largest private life insurance player increased its branch network to around 714, from 494 as on March 31, 2010.
In terms of the number of employees, these top six insurers have reduced it by 26 per cent on average. ICICI Prudential Life reduced its headcount 34 per cent to around 13,200 in March 31, 2012 from 20,000 in March 31, 2010. Bajaj Allianz trimmed its employee count by more than 30 per cent.
"Our headcount has remained more or less constant and we have consolidated our branch network, which has resulted in the company firmly staying on the path of profitable growth," said an ICICI Prudential Life spokesperson.
Over the last two years, all these insurers have improved their bottom lines significantly and reported net profits, though new business income across the industry nosedived.
Collectively, these six insurers reported a net profit of Rs 4,106 crore (Rs 41.06 billion) during 2011-12, compared to a loss of Rs 335 crore (Rs 3.35 billion) during 2009-10.