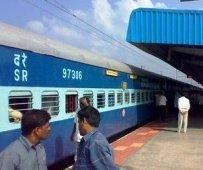 Breaking another male bastion, 37-year-old C V Thilagavathi has become Southern Railway's first woman driver of a suburban electric train, a vital part of the metropolis' public transport system, carrying thousands of commuters every day.
Thilagavathi, appointed motorwoman afer extensive training, has been running the electrical multiple unit train, a traditionally male-dominated field, since last month in busy and challenging suburban routes, dotted with stations and level crossings.
Southern Railways operate EMU train services from Chennai to various suburbs around the city, catering mainly to office-goers and school and college students.
"I was bit tense when I first drove the Tiruvallur EMU train from Moore Market Complex (city suburban terminal) recently. I operated the service perfectly and reached the destination on time", Thilagavathi told PTI.
Her main aim was to become a 'motorwoman' when she applied for Railways and she achieved it last month.
"After working as assistant driver for four years in long distance mail and express trains in Bhopal, Central Railway, I was transferred to Southern Railway in 1999 and was soon promoted as the main driver of goods trains in Chennai division," she said.
As operating the EMU is a lot different from locomotives, Thilagavathi was given six months training to learn about the engine operations and signals.
She also attended a month-long course in general rules of suburban operations before being appointed as the EMU motorwoman.
"My male colleagues have helped me a lot right from the begining of my career in the Railways. They took care of me well and taught me whenever required," she said.
She also attributed her success to her father, saying he encouraged her to join the Railways.
Asked about the reaction of public when they saw her in the motorcabin, she said most of them looked at her with surprise.
"Some women passengers shook hands with me after I get down from the train," she said. Asking more women to come forward to become train drivers, she said, "Since what I do now is a challenging and interesting job, I always encourage young woman to get into the Railways".
But she is not content with realising her ambition to run the EMU and has set eyes on operating superfast long distance trains like the Shatabdi.
"If I am given an opportunity in future, I will definetly love to operate express trains and Shatabdi," she said.
Railway officials said if all went well, Thilagavathi would be promoted as a mail and express loco driver.
Operating suburban trains is considered a challenging task in view of recurring incidents of people being run over while crossing tracks.
Besides, keeping up to the schedule is another key factor. Often, protests had been staged by commuters against late running of trains.