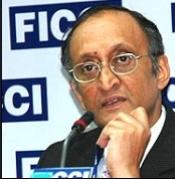 The industry body Ficci, whose Secretary General Amit Mitra is among the winning Trinamool Congress (TMC) candidates in West Bengal elections, on Friday described the TMC victory as "historic".
"We are confident that the new government will usher in an era of rapid and inclusive overall economic development in the state," Ficci Director General Rajiv Kumar said in a statement issued.
He said the electoral verdict in the state has "a special significance for Ficci as its Secretary General Amit Mitra has scored a remarkable victory over sitting Finance Minister (Asim Dasgupta)".
Mitra, 63, won by over 26,000 votes from Khardah constituency. The chamber hoped that the new opposition in the state "will accept the people's verdict and work constructively with the government for the betterment of the West Bengal's people".
Kumar said West Bengal was once among the top industrialised states of the country and accounted for a high percentage of the nation's manufacturing output.
"Unfortunately, over the last few decades the state has lost its pre-eminent position in the industrial hierarchy of the nation," he said.
It has lost prestigious projects like that of the Tatas in Singur for manufacturing of Nano car. He said the state with its rich human resources and its unique location, has immense possibilities to emerge as one of the leading centres for business and industry as well as India's gateway to East Asia.
The chamber has already scheduled its next executive meeting in Kolkata in the first week of July.