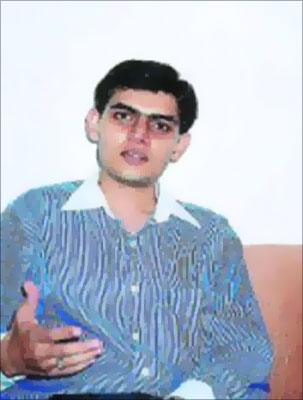 The son of an LIC agent who also ran a medical shop in Kochi, Nirmal Kotecha hasn't done too badly for himself. At 32, he is estimated to be worth about Rs 500 crore (Rs 5 billion).
His acquaintances have many adjectives for him: From 'genius' to a man wildly passionate about the stock markets to someone who was in a tearing hurry to make money etc.
Last week, he earned another sobriquet -- 'the mastermind and the main beneficiary of the Pyramid Saimira forgery'-- from the capital market regulator.
The April 23 order by the regulator said Kotecha had masterminded the forgery of a Securities and Exchange Board of India letter ordering directors of Pyramid, which runs a chain of theatres, to make an open offer to shareholders.
Since the forgery was aimed at manipulating the company's share price, Sebi barred 230 people and entities from trading.
The regulator also suspects that Kotecha used several front companies to trade in various stocks, and that there are indications of massive fund rotation among these front entities.
In a way, this wasn't a surprise. Kotecha has had the distinction of being on the Sebi's watch list on at least two other price manipulation cases -- Atlanta Ltd and SEL Manufacturing.
The modus operandus in both cases was similar to that of Pyramid: As Sebi discovered, Kotecha bought stakes in the companies at throwaway prices from the promoters, rigged the prices and then dumped the stock.
This may sound boringly familiar; many operators do just this frequently in the Indian stock markets, but Kotecha did it with finesse that would have made his self-confessed inspiration -- Harshad Mehta -- proud. He started investing in the market in 1993 at the age of 16, when Harshad Mehta's scam came to light and the young Kotecha was one of his ardent admirers.
By the time Mehta's cookie crumbled, Kotecha was deeply into investing and became a sub-broker at the Kochi Stock Exchange at the age of 18. Kotecha made his real big money during the technology boom in 2000.
He shifted to the Mumbai market soon after.
In the process, he opened many companies -- Skyz Financial Consultant and Kotecha Capital were just two of them.
As Sebi found, he was also using a large number of front accounts, including those of his relatives, to manipulate the securities market and to route the funds through several layers -- a reason the regulator has requested the Reserve Bank of India, Financial Intelligence Unit and the income tax department to look into possible money laundering.
All through, Kotecha seems to have used his early contacts with many promoters of small gems and jewellery companies well (he had invested in many of their IPOs as well). No wonder 43 of the 230 entities in the Sebi order belong to the gems and jewellery sector.
Though he has been known to be dealing in small IPOs to make mega bucks, many agree he perhaps went too far this time.
First, he forged a Sebi letter in which the regulator directed the promoters to make an open offer for Pyramid Saimira -- potential market-moving information.
Then he and his partners in the Pyramid case also planted a fake company secretary and gave this person's number to journalists who were sent the forged letter. When journalists called for confirmation, this person impersonating the company secretary claimed that Pyramid had indeed received such a letter from the regulator!
So when the Pyramid stock price surged after the forged letter became public, Kotecha went for the kill and reduced his holding from 24 per cent to just 0.24 per cent in just three months, making a massive profit.
Of late, Kotecha had shifted his attention to private equity too. For example, his PE firm Kotecha Capital picked up 49 per cent stake in the Bangalore-based US Pizza.
Although the exact valuation of the deal isn't known, media reports said Kotecha will invest over Rs 500 crore (Rs 5 billion), including debt, as the fast food chain plans to expand at a furious pace.
But many people say it would be a mistake to write off Kotecha. After all, Sebi's order is just an interim one and Kotecha will obviously challenge it. He was let off on two earlier occasions. Will it be third time lucky for the market player?
Image: Nirmal Kotecha | Photograph, courtesy: Business Standard
Powered by