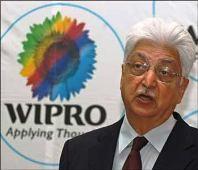 Wipro's scrip on Tuesday slumped nearly 12 per cent, wiping-off Rs 11,882 crore (Rs 118.82 billion) from its market value, on the first day of trade as a standalone IT stock after the company hived-off its three non-IT business divisions into a privately-held company.

After making a weak opening, shares of the company further tanked 11.41 per cent to Rs 397.25 on the BSE.

At NSE, the stock tumbled 11.63 per cent to Rs 396.60.

Led by the steep decline in the share price, the market capitalisation of Wipro slipped by Rs 11,882 crore (Rs 118.82 billion) to Rs 98,551 crore (Rs 985.51 billion).

"We expect Wipro to trade at 10 per cent lower than current market price post this event (demerger).

"The demerger will enable the company to focus on its growth strategy in the IT services and products space and increase its competitiveness in the market," Edelweiss Research said in a report.

In November last year, the Wipro board had approved the demerger of the non-IT businesses -- Wipro Consumer Care & Lighting (including furniture business), Wipro Infrastructure Engineering (hydraulics and water businesses) and Medical Diagnostic Product & Services business -- into a privately- held company to be named 'Wipro Enterprises Ltd'.

The demerger has been effective from March 31.

". . . the scheme of arrangement for the demerger of 'Diversified Business' of the company approved by the board of director on November 1, 2012 is effective from March 31, 2013," Wipro had said in a filing to the BSE on April 1.

Wipro had last week said that April 11, 2013, has been fixed as the record date for the purpose of determining the members of the company to whom Securities of the Resulting Company will be allotted and who will be entitled to the Exchange Right pursuant to the Scheme of Arrangement (Election and Exchange Notice).

It is likely to take about six weeks from the record date for the whole process to be completed, it had said.

Wipro Ltd will remain a publicly listed company that will focus exclusively on information technology, while Wipro Enterprises will be an unlisted company.

Promoter's held 78.29 per cent stake in the company as on December 31, 2012.
Image: Azim Premji