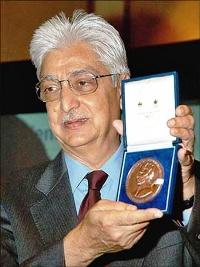 Wipro met Street expectations on Friday by posting a strong growth in earnings for October-December 2013, for a second quarter in a row, reaffirming belief that it was on a revival track.

The Bengaluru-based company's consolidated net profit rose 27 per cent over a year to Rs 2,015 crore (Rs 20.15 billion) in the quarter.

Revenue at Rs 11,332 crore (Rs 113.32 billion) rose 18 per cent, aided by growth in top accounts and key regions, including the US and Europe.

On a sequential basis, the net profit grew 4.3 per cent and revenue by three per cent.

The sequential revenue growth in rupee terms was the highest among its peers; sector leader Tata Consultancy Services reported 1.5 per cent and HCL Technologies 2.8 per cent. Infosys reported a sequential revenue growth of only 0.5 per cent.

"We believe the initial signs of gain from restructuring initiatives have started showing and expect Wipro to do well in the quarters ahead," said Ankita Somani, research analyst-IT at Angel Broking.

Wipro's financials during the quarter include its IT services and IT products business.

However, it recently said it would discontinue hardware manufacturing.

The earnings for Q3 exclude the newly acquired Opus CMC, as the deal was completed only earlier this month.

The core IT services business reported a net profit of Rs 2,380 crore in the quarter, up 33 per cent compared with the same period last year. Revenue from IT services increased 20 per cent to Rs 10,330 crore (Rs 103.3 billion).

In dollar terms, revenue from IT services grew 2.9 per cent sequentially in Q3, to $1.7 billion; it had earlier said it expected ('guidance') 1.8-3.6 per cent.

"As the global economy is progressing towards stability, we see optimism among clients, especially in the West," said Chairman Azim Premji.

Buoyed by the improving business environment, Wipro also said it expected revenue from IT services to be $1,712-1,745 million in the fourth quarter of 2013-14, indicating growth of two to four per cent.

"Wipro's guidance for Q4 indicates it has likely returned on the path of sustainable and consistent growth, on the back of its account mining initiatives," said Dipen Shah, head-
private client group research at Kotak Securities, in a note.
While most metrics in the IT services business remained in line with expectations during Q3, Wipro's operating profit margin grew 54 basis points sequentially to 23 per cent, the highest in three years.
Most analysts had expected margins to remain flat during the quarter.
Suresh Senapaty, chief financial officer, said the improvement in margins was a reflection of the drive the company undertook to improve efficiency.
Growth for Wipro in the December quarter was primarily led by the health care and life sciences business.
This grew 7.6 per cent, followed by energy, natural resources & utilities, which grew 4.8 per cent.
As against competitor TCS' nearly nine per cent sequential decline in revenue from India during Q3, Wipro's revenue from India & West Asia grew 5.5 per cent.
The company does not disclose revenue from India separately. Growth in the Indian business was largely because Wipro has a higher exposure in the private sector within the country, which continues to grow, said chief executive T K Kurien.
Among business practices, Wipro continued to clock robust growth in global infrastructure services at 5.6 per cent, followed by 4.1 per cent in business process outsourcing.
Product engineering grew three per cent. It added a client each in the $100-million and $50-million bracket.
"We see continued momentum in GIS. Given the quality of the pipeline and order book, we expect GIS to grow faster than the company average," Kurien added.
Employee utilisation (excluding trainees) was 74.3 per cent in Q3, flat from the earlier quarter.
Attrition rose to 14.3 per cent as against 13.5 per cent in the earlier one. Despite the two quarters of satisfactory performance, Kurien said on Friday, 'there's a lot of work to be done still'.
This month, he completed three years as chief executive of Wipro's IT business.
"The restructuring story was over long ago for us. . . We have to get to a secular growth rate of 4-4.5 per cent and until then, it is work in progress," he added.
Performance highlights
' Europe, India & West Asia lead growth ' Operating margin up 50 bps q-o-q ' Number of $100 mn clients rose by one, to 11 ' Growth across GIS, BPO, business application services