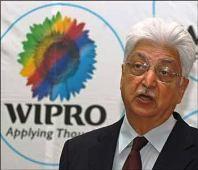 Wipro has decided to restrict the onsite deputation period for employees to two years.

The country's third largest information technology services firm will, instead, rotate people for onsite assignments -- a move the management expects would boost the career growth opportunities for its employees.

The Azim Premji-headed company says: "The intention of the two-year limitation is to allow continuous rotation of talent, promoting the efficiency of worldwide operations and personal and career-development opportunities to employees."

The policy, which Business Standard accessed, however says onsite assignments in certain "urgent" and "unique" organisational needs could be extended beyond two years and up to an additional six months. The heads of business units would give this in "extremely rare situations".

The policy came into effect from July 15 this year.

Wipro, in response to a query, said the policy document was designed a few years ago and had been recently refreshed, as part of ongoing effort to drive accountability and bring the organisation closer to the client.

"We have found that this rotation policy provides an equal opportunity for all employees to be part of the client's environment, become more engaged and develop domain and client specific knowledge," the company statement in its response to this newspaper.

Onsite assignments are considered major attractions for software professionals.

Usually, IT services companies send software professionals
from India to work on clients' sites, based on the business requirements.
These resources work as interfaces between employees working in India and other offshore locations.
They get paid in foreign currencies, depending on the country where they are working.
According to personal experts and industry analysts, such rotation of IT employees to onsite locations is expected to become a trend in the near future.
This is because the number of onsite roles are becoming scarce.
Besides, offshore-centric IT services firms are now seen hiring more local people in key regions, owing to pressure from local governments.
Everest Group notes a recent slowdown in growth has led to fewer onsite roles available for employees in IT services companies.
"Given that, we expect to see more companies rotating people for onsite assignments to keep them motivated," says Amneet Singh, vice-president (global sourcing) of the management consulting firm.
"Besides, by bringing back professionals deputed at clients' locations across the globe, companies can harness their expertise better in offshore delivery."
Wipro's new policy, though, exempts certain positions, such as employees in sales and business development roles, architects, portfolio managers and programme managers, which require frequent visits to onsite locations for interactions with clients.
According to industry sources, some global firms like IBM, HP and Cognizant practice a rotation policy for onsite posting. This is something
Business Standard
could not verify independently.