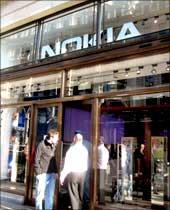 Bouyed by good business during the current 'Onam' festival season, Nokia on Thursday launched its online Music Store in Kerala offering music lovers access to over 30 lakh international, Bollywood and regional soundtracks across 20 genres.
Declining to give any figures of its 'Onam' sales, Nokia India's Regional Manager (South), T S Sridhar, said the company was optimistic that the new venture would draw good response from Kerala. To deliver the most updated content, Nokia has tied up with leading international music labels such as Universal Music Group, Sony Music, EMI and Warner and major independent Indian record labels, Sridhar told reporters in Kochi.
Presently Indian consumers could experience the Nokia music store (hhtp://music.nokia.co.in) via inbox vounchers included in all XpressMusic handsets and select Nseries and ESeries devices. There were plans to launch vouchers ranging from Rs 25 to Rs 200, he said.
The company had partnered with India's leading music body, India Music Industry, a consortium of over 150 music companies to give opportunity to customers to discover and enjoy their favourite music.
Nokia had also signed up with GIRI and Phoneytunes for access to South India and North regional content respectively, he said. The store has a rich catalogue of music from the state ranging from the legendary Yesudas to M G Sreekumar and S Janaki, K S Chitra, Jyotsna among others.
Playback singer Jyotsna Radhakrishnan said the Nokia music stores with its extensive repertoire of songs, gives artists an opportunity to reach out to a larger audience across the country. 'I am always on the lookout for new type of songs.
Good music should reach everyone'. This venture would be a good beginning in the music industry plagued by the problems of priacy and illegal downloading, she said.
The Nokia Music store is available in 21 marekts across the world and offers customers the chance to enjoy music directly on their Nokia device or personal computer.
A customer can listen to 30 second clip of any track on the store before downloading it and can also browse for new music, get recommendations or search for their favourite artists, songs or albums. Once a track captures their attention, users will be able to download directly to a mobile device without having to download the same song again on their computer.
They will also be able to transfer songs via a PC to compatible Nokia devices.