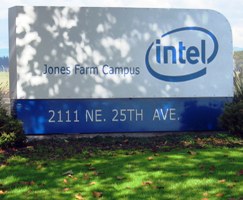 Intel Labs on Wednesday demonstrated an experimental, 48-core Intel processor, or 'single-chip cloud computer' that could reshape how computers are built and consumers interact with their PCs and personal devices.
The prototype, which the Bengaluru Intel research team also contributed to, contains 48 fully programmable Intel processing cores, the most ever on a single silicon chip.
It also includes high-speed on-chip network for sharing information along with newly invented power management techniques that allows all 48 cores to operate 'extremely energy efficiently' at as a little as 25 watts when idle, or at 125 watts when running at maximum performance.
"The chip has a unique ability to mix and match voltages and clock speeds for the different cores, or even to turn off regions of the chip when not needed", Justin Rattner, head of Intel Labs and Intel's chief technology officer, told reporters in Bengaluru.
It has a network of two core nodes that mimic cloud computing at chip level.It has been nicknamed Single Chip Cloud Computing because it resembles the organisation of data centres used to create a 'cloud' of computing resources over the Internet, he said.
It uses a cloud data centre approach, yet all the computers and networks are integrated on a single piece of 'Intel 45 nm, high-k metal gate silicon', dramatically reducing the amount of physical computer needed to create a cloud data centre.
The chip meets the scalability and design complexity challenge, is energy efficient, address dynamic voltage frequency scaling, shares virtual memory between cores, has seamless sharing of complex data structure and simplifies application programmes, he said.
Vasantaha Erraguntla, senior engineering manager Intel Labs, said, "The single-schip cloud computer was designed as a concept vehicle for parallel software research".
The SCC, which was developed by 40 engineers from Intel Labs in Germany, US and Bengaluru, has a second generation 2 D mesh network, and uses one third power versus previous generation. The Bengaluru team contributed in terms of circuit/physical design of the IA core, memory controller logic and mesh internconnect network.
This included implementing synthesis/custom cirucits on Intel's 45 m process technology, validating the functionality and performance verrification of the design, she said.
The processor has huge application in the field of cloud computing, Rattner said. Currently, cloud computing data centres face the dilemma whereby the the data operating cost often exceed capital investment and key issues were managing power and heat. "With a chip like this, you could imagine a cloud data centre of the future which will be an order of magnitude more energy efficient than what exists today, saving signficant resources on space and power costs", Rattner said.
On the time frame of a commercial offering, he said it needed two to three years more research before 'we talk of a serious commercial offering'.
Intel was currently working with industry partners like Microsoft, ETH Zurich and academia to develop software application and programming models using the chip.
"We are also looking at tying up with Indian academia," he said.