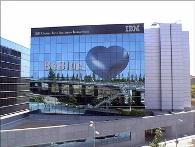 Technology major IBM has tied up with Indian Institutes of Technology (IITs) in Delhi and Roorkee to jointly promote research in areas of common interest, like green technologies, energy-efficient computing and data mining.
Researchers at IIT Delhi will work on energy-efficient computing, with major focus areas being architecture and operating system-level optimisation for bringing down energy consumption in computing environments.
"Key areas of the project are incorporating energy-efficient computing in IIT Delhi's course framework and organising workshops on energy-efficient computing," says Amol Mahamuni, programme director (university relations), IBM India/SA.
With IIT Roorkee, IBM will work on development of data mining algorithms for analysing time series data and applying them to real-life data, such as meteorological data from the Indian peninsula, detecting patterns in changes in the forest cover in India and prediction of natural disasters.
The joint research is part of IBM's Shared University Research (SUR) initiative where the company awards equipment to universities to promote research in areas of mutual interest besides connecting the research and researchers at the university with personnel who are interested in the research from the IBM research, development and solutions provider communities.
In 2007, three Indian universities received around $300,000 (nearly Rs 1.4 crore) from IBM, while in 2008, the SUR grant was around $210,000 (nearly Rs 1 crore).
"As part of SUR, we give faculty allowance and create joint intellectual property with the universities. Our subject matter experts collaborate with the faculty. This year, also, the grant is to the tune of a few thousand dollars," adds Mahamuni.