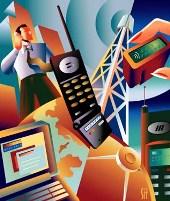 The reserve price of Rs 14,000 crore (Rs 140 billion) set for airwaves is 'too high' and the auction of 2G spectrum
will be over on the first day itself, Bharti group Chairman Sunil Bharti Mittal said on Wednesday.

"Reserve price is too high and we have been saying that since day one," Mittal told reporters here on the sidelines of the World Economic Forum on India.

Next week, the government is auctioning spectrum at a minimum bid price of Rs 14,000 crore for 5 MHz of airwaves for all the country's 22 telecom zones.

The auction base price is more than seven times that the carriers paid in earlier sales where airwaves were bundled with telecom permits.

Ruling out the repeat of the highly competitive bidding for the 3G and BWA (also known as 4G) spectrum in 2010, which went on for over a month fetching the government a total of Rs 1.06 lakh crore (Rs 1.06 trillion), Mittal said: "Auction will be over on first day.

"There is no need to be aggressive."

"Asked why then Bharti is taking part in bidding if the price is too high, he said:
"We didn't want to be seen as boycotting auctions."
Airtel, Vodafone, Videocon and Tata Teleservices are among the telecom biggies that have applied to bid in the auction, but Reliance Industries and Russia's Sistema surprised by staying away.
No player has applied for pan India licence, while Airtel and main rival Vodafone have only bid for additional spectrum in select few circles.
Other players like Videocon, Telenor and Idea have bid for new circles and additional spectrum.
As far as the CDMA technology is concerned, there are no bidders left in the fray after the pullout of Tata Teleservices and Videocon.
The 2G spectrum was allotted in January 2008 at an entry fee of Rs 1,658 crore (Rs 16.58 billion) and total revenue generated was about Rs 9,000 crore (Rs 90 billion).
In February this year, the Supreme Court had cancelled 122 licences granted by former telecom minister A Raja on the ground that they were issued in a 'totally arbitrary and unconstitutional' manner.
The court has given the government time till January 18 to complete the auction.