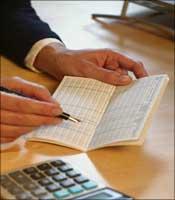 This year, Praveen Jain, a software professional in Bangalore, did not have to make his annual tax trip to Kolkata. Even after e-filing came into vogue, Jain, like many of his family members, used to go to his native place near Kolkata to submit the signed copy of his ITR-V, the acknowledgement of e-filing, at the local income-tax office.
Not this year, though. Thanks to a number of tax preparation portals that have come up, and the decision of the government to allow tax payers opting for e-filing to send a signed acknowledgement to the income-tax processing centre in Bangalore, Jain filed his returns on the evening of July 31, the due date for submission of IT returns. On top of that, he prepared his returns on his own with the help of a tax preparation portal instead of a chartered accountant.
"By the time I got my PAN card issued, all family members were in Kolkata. Hence, my tax returns file is still there. Until last year, if I had to submit my returns, I had to go to the particular I-T office in Kolkata and present the acknowledgement. I could not submit it in Bangalore, because income tax submission is a local affair," says Jain, who has been staying in Bangalore for four years.
As tax filing in India gets digitised, and rules get simplified, most of the floating population now prefers e-filing. This has given rise to a number of tax preparation websites, such as, TaxSpanner, eLagaan, Taxsmile, Taxshax, Taxonline and myITreturn. Riding on the burgeoning tax payer base, these websites are offering innovative services.
The government simplified e-filing this year. As soon as a tax payer (one who does not have a digital signature) uploads his returns on the income-tax website, he can download the acknowledgement and take a print.
The I-T website also sends the acknowledgement to the email address of the tax payer. The tax payer needs to sign the acknowledgement and send it to a designated post box number meant for the central processing centre, by normal post. Once the CPC gets the acknowledgement, it will send an email confirming the receipt. The acknowledgement should reach the I-T office within 30 days of the e-filing.
"This year there has been a significant rise in the number of people who have availed of our services for preparing their IT returns because e-filing is much easier now. We cater to end-users (tax payers) who can't, or don't want to hire a chartered accountant, but still want to do e-filing," says Sumit Grover, co-founder of TaxSpanner, a portal that helps in preparation of tax returns online.
Tax preparation using automated tools is a relatively new concept in India as the government allowed e-filing only in 2007-08. Till then, one had to go to a chartered accountant and pay Rs 200-1,500.
After e-filing was introduced, the initial response was not very encouraging, as one was still required to go to the I-T office to deposit the money. After the decision of the government to set up a CPC in Bangalore in partnership with Infosys Technologies for processing all e-filings from across India, it has caught on, although the I-T department is yet to come out with an official figure on this. In turn, this has thrown up a business opportunity of about Rs 2,000 crore (Rs 20 billion), the amount that some 35 million tax payers spend every year for getting their tax returns prepared by chartered accountants.
Most portals that offer tax preparation services use standard tools which automate the process of tax preparation. This minimises errors (chartered accountants generally engage trainee associates who do it manually).
"As the money involved is small, a lot of incompetent people deal with tax preparation. Besides, a tax professional who is assisting in preparing the returns needs to make at least five rounds of the client's place, the I-T office and his office, to prepare one tax return," says Navin Kumar, co-founder of eLagaan.com.