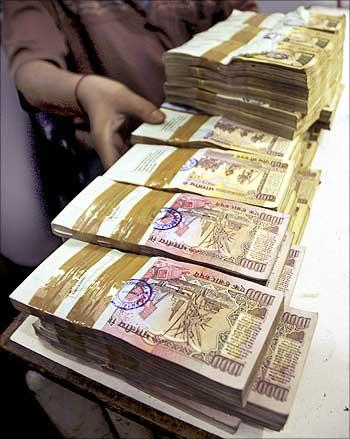 The Reserve Bank of India said on Monday it had received 26 applications for new bank licences, with Tata Sons Ltd, the holding company for India's largest conglomerate, among those seeking to set up the first new Indian banks since 2004.
In February, the central bank released guidelines to allow corporate houses to form banks, part of an effort to expand access to financial services in a country where only about half the population has a bank account.
Licence winners are expected to be announced by the first quarter of 2014. Below is the list of applicants.
* Aditya Birla Nuvo Ltd, part of the Aditya Birla conglomerate, which includes Idea Cellular Ltd and Hindalco Industries Ltd.
* Bajaj Finance Ltd, part of the Bajaj Group, which includes motorbike maker Bajaj Auto Ltd.
* Bandhan Financial Services, a microfinance lender.
* Edelweiss Financial Services Ltd, a diversified financial services firm.
* IDFC Ltd, a finance company which lends to the infrastructure sector and has investment banking, private equity, research and mutual fund operations.
* IFCI Ltd, a financial consultancy and advisory company.
* Indiabulls Housing Finance Ltd, part of the Indiabulls group conglomerate.
* India Post, part of the Indian ministry of communications and information technology. Indian post offices offer savings schemes and sell insurance and mutual funds.
* India Infoline Ltd, part of the IIFL group, which has interests in brokerage, wealth management, insurance and consumer loans.
* INMACS Management Services Ltd, which provides management consultancy, corporate finance, audit, tax and legal advisory services.
* Janalakshmi Financial Services, a microfinance company.
* JM Financial. Former Citigroup CEO Vikram Pandit would become non-executive chairman of JM's banking arm if it wins a license.
* LIC Housing Finance Ltd, a unit of state-run Life Insurance Corp of India, the country's largest insurer.
* L&T Finance Holdings Ltd, part of India's largest engineering conglomerate, Larsen & Toubro Ltd.
* Magma Fincorp Ltd, a finance company that gives loans for vehicles, gold and small enterprises.
* Muthoot Finance gives loans against gold.
* Reliance Capital Ltd, controlled by billionaire Anil Ambani. Japan's Sumitomo Mitsui Trust Bank and Nippon Life Insurance of Japan would each own stakes of between 4 and 5 per cent in the proposed bank.
* Religare Enterprises Ltd, a financial services firm controlled by the Singh brothers who also control Fortis Healthcare Ltd US-based bank Customers Bancorp Inc will invest $51 million in the bank if the group gets a licence.
* Shriram Capital, part of the Shriram Group, which includes truck financier Shriram Transport.
* Smart Global Ventures.
* SREI Infrastructure Finance Ltd, which mainly finances infrastructure projects.
* Suryamani Financing Co Ltd, a financial services provider. * Tata Sons Ltd. Tata is the holding company for India's largest conglomerate.
* Tourism Finance Corp of India Ltd, which provides financial services for tourism-related activities.
* UAE Exchange India, a remittance and foreign exchange services firm. * Value Industries, affiliated with Videocon Industries Ltd, which has interests ranging from white goods to energy.
Not in the fray
* Mahindra & Mahindra Financial Services Ltd, part of the Mahindra Group that includes India's biggest utility vehicle maker, was seen as a strong contender for licence but opted not to apply.
* SKS Microfinance Ltd, India's only listed microfinance company, did not apply. Earlier this year, its chief financial officer said it would consider applying.