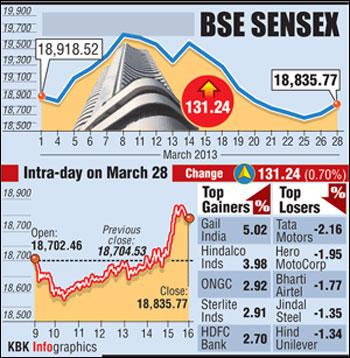 Markets ended higher this Thursday as investors rushed into value-buying in metal and banking sectors on the final day of March Futures & Options expiry.

The 30-share Sensex ended at 18,835.77 up 131.24 points or 0.7% and the 50-share Nifty ended at 5,682.55 up by 40.95 points or 0.73%.

The Sensex and the Nifty reached an intra-day high of 18,874 levels and 5,692 mark, respectively.

Global risk appetite also improved after Germany's retail sales advanced countering concern over Europe's debt crisis.

In Asia, Japan's Nikkei share average fell to a one-week closing low on Thursday as concerns about Italy's funding costs and the rescue deal for Cyprus prompted investors to take profits on exporters.

The Nikkei closed 1.3% lower at 12,335.96, staying below its five-day moving average of 12,437.27and moving away from a 4-1/2-year high of 12,650.26 struck last Thursday.

European markets traded higher with CAC, DAX and FTSE gaining between 0.1-0.2%.

Back home, for the first 11 months of the current financial year, the Centre's fiscal deficit touched 97.4% of revised estimate (RE) for 2012-13, official data showed today.

In absolute terms, the fiscal deficit stood at Rs 5.07 lakh crore against Rs 5.21 lakh crore estimated in the RE, the data provided by the Controller General of Accounts revealed.

On the sectoral front, BSE Metal, Capital Goods, Consumer Durable, Bankex and PSU indices gained by 2-3%. However, BSE Auto index was down nearly 1%.

The main gainers on the Sensex were Hindalco, GAIL, ONGC, Sterlite, Coal India, DRL, Infosys, Tata Power and L&T, all surging between 1-4%.

Shares of automobile stocks were under pressure with many frontline stocks trading lower by up to 3%
on the Bombay Stock Exchange.
Hero MotoCorp, Tata Motors, Mahindra and Mahindra, Bajaj Auto and Maruti Suzuki India was down by 1-3%.
NTPC dipped 0.3% on high volumes after the company announced that power projects in Sri Lanka, Bangladesh are on track, remaining undeterred by current political developments in these places.
Among other shares, Aurobindo Pharma surged nearly 12% to Rs 145.90 after the pharmaceutical company said that the US Food and Drug Administration's (USFDA) has lifted the import alert for non-sterile products manufactured in its UNIT-VI cephalosporin facility based in Hyderabad.
Novartis India gained nearly 4% after the company said it's Swiss-promoter Novartis AG intends to reduce its stake in the Indian entity to enable it to meet Sebi guidelines on the minimum public shareholding in the listed companies.
The broader markets outperformed the benchmark with BSE Midcap and Smallcap indices up 1-2%.
The market breadth in BSE ended positive with 1,623 shares advancing and 1,152 shares declining.