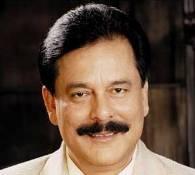 London-based Indian Journalist's Association (IJA) has sent a notice to Sahara Pariwar chairman and managing worker Subrata Roy asking his group not to prevent journalists from discharging their duties.
IJA president Ashis Ray's letter comes on the heels of a recent public relations fiasco orchestrated by the Lucknow-based group in London.

On April 5, Roy and his colleagues had invited London-based Indian journalists and a few local celebrities to unveil stamps issued by the Royal Mail in honour of Roy.

As it turned out, the stamps were a product of a commercial deal that Sahara Group had initiated. The facility is available to any person willing to pay the stipulated, but nominal sum of £15 for a sheet of 20 stamps.

Some reporters even complained of getting veiled threats. The executive committee of the IJA met last week to discuss
the matter and wrote to Roy.
The journalists' body accused the group of misleading reporters. "While the invitation to the function from your wife and your speech gave the impression that the Royal Mail had honoured you, the latter clarified the Sahara Group had availed a service which enables its customers to obtain personalised stamps by paying a specified amount," the letter said.
"Interfering with media freedom is a major offence in Britain. This is also a clear violation of liberties granted by the Indian Constitution. Such behaviour, as I am sure you will agree, is unacceptable; and IJA has no alternative but to treat the matter seriously."
The PR coup was widely reported in the Indian media on April 7, including this paper, local British paper picked up the story over the last weekend.