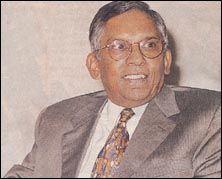 From running a business house to teaching is one mighty leap for anybody. And who better to hit a B-school marquee than somebody who will preach what he has always practised?
Come August 1, MV Subbiah, the erstwhile chairman of the Chennai-based Rs 5,266-crore (Rs 52.66 billion) Murugappa group, will don his new avatar. He will hold the centrestage at Hyderabad's Indian School of Business, where he will teach -- what else? -- 'Managing Families in Business'. ISB had invited him to teach and he accepted the invitation.
A good six months after hanging up his boots, Subbiah will take five classes for the 2005 batch at ISB. Says Ajit Rangnekar, deputy dean at the school, "He is the perfect professor for us to have and there is none more suited in India to speak on issues related to family businesses than him."
It is said in the history of family controlled businesses globally, only three per cent survive without splits when the third generation takes over. In the case of the Murugappa group, the fourth generation has taken over, and quite successfully at that.
His assignment comes at a time when family businesses are in the limelight, what with the late Priyamvada Birla bequeathing all her group's wealth to her auditor. But Subbiah does not think it is unusual. "A split in a business family is normal. When ordinary families go separate ways, why not business families," he asks.  And his antidote? "One needs to be prepared and budget for it. It has to be dealt with in a professional manner rather than washing dirty linen in public," he adds.
He should know. The Murugappa group under Subbiah has managed to set notable precedents in governance among Indian family-owned businesses.
In April 2001, when he stepped down from the chairmanship of the group, a good three years before his retirement date, it was a break from tradition. Three years earlier, Subbiah had initiated a transformation at the conservative family-run business with the formation of the Murugappa Corporate Board.
Sitting on it were family members and four independent directors -- Marti G Subrahmanyam, the Charles E Merrill, Professor of Economics and Finance at the Leonard N Stern School of Business, New York University, Natalino Duo, CEO of Benetton, and Infosys co-founder NS Raghavan.
Since then, the Murugappa group has seen many more changes. In October 2002, PS Pai, former vice chairman of Wipro, yet another non-family professional, took over as executive chairman of the MCB from Raghavan. Says Subbiah: "When I joined the group, I was given to understand that I was a trustee and not an owner. I only hope I have lived up to my trusteeship. Our biggest strength as a family group is that none of us think we are owners, but instead consider the business we inherited a trust we have to manage."
In fact, Subbiah appears to be even busier now. Soon after the ISB assignment, he will head for Northwestern University's Kellogg's school on a year's sabbatical.
He will study family businesses and their history under the renowned John Ward. On his return, he is expected to advise a clutch of family-held businesses. With so much on his plate, whoever said that retirement was boring?