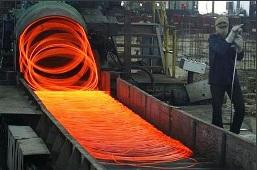 Steel may become costlier again in February, on the back of pick up in domestic demand and rise in international prices, due to a spurt in input costs.

"With the firming up of international prices and growth in domestic consumption, steel prices may further recover.

"The recovery has started with the recent hikes and will continue," state-run Rashtriya Ispat Nigam Limited chairman and Managing Director A P Chaudhary told PTI.

RINL is among the few firms that had effected price hikes, both in the current month and in the previous one.

While the hike was up to Rs 1,400 per tonne in this month, it was around Rs 1,500 a tonne in December, 2012.

Steel Authority of India chairman C S Verma too hinted of a possible price hike as the international costs of iron ore have gone up in the recent past to touch $150 a tonne.

"Iron ore prices have gone up internationally from $90 per tonne to $150
a tonne now. They have to reflect in the pricing of the steel," SAIL Chairman C S Verma said.
A spokesman of a private sector steel firm also said that there is a "good possibility" of the prices going up further on account of the high iron ore prices globally.
"Iron ore prices have gone up by 30-40 per cent in the last three months," he said.
The jump in international iron ore prices in recent times is reportedly due to the sudden spurt in demand from Chinese steel makers amidst subdued global supply.
"Domestic price hike will depend on the import parity price of steel," he added.
Having remained subdued for most part of 2012, the demand for steel picked up since October last year as the construction activity gained momentum.
Domestically, National Mineral Development Corporation may also revise iron ore rates in February because of firming up of iron-ore prices internationally.