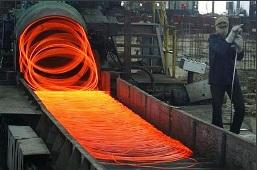 Private steel makers are looking to increase prices by Rs 750-1,700 a tonne, on the back of a provisional change in prices indicated by public sector iron ore producer, NMDC, and the recent freight rate increase by the railways.

While some primary flat steel producers have already passed on the cost-push to customers, others are still calculating the increase.

Market sources say Essar Steel has increased prices by three to four per cent.

"We are still discussing with the marketing department and working out the new price.

"The increase will happen this month," said Bhushan Steel director (finance),  Nittin Johri.

A Mumbai-based cold-rolled steel company said private steel producers had already increased prices by Rs 750-1,500 a tonne.

Tata Steel, however, said it had maintained its prices, while Steel Authority of India Ltd, in the public sector, stated that for April, prices were rolled over for all flat and long products.

However, for some sections of structurals (light and medium), a marginal increase of 2.5 per cent was taken.

SAIL had increased prices by Rs 500-700 a tonne in March across flat and long products.

Long products are primarily used in the construction sector and flat products by the automobiles and white goods sectors.

Steel industry representatives said NMDC had raised iron ore prices, saying it was provisional, by Rs 400-500
a tonne across grades.
NMDC provides ore to most steel companies that don't have captive mines. SAIL and Tata Steel do.
According to an SMC Research report, steel prices have increased 8.5 per cent between the first and fourth quarters of 2011-12, while iron ore prices have risen 13 per cent.
Besides, a revival in demand for cars and pick-up in construction activity may have made a case for the price increase, apart from the cost-push.
The report said global demand had started picking up in March, amid gradual recovery in construction activity.
"The daily rate of global crude steel production rose slightly in February from a month earlier, helped by a seasonal demand pick-up in top producer China. Steel demand in Europe is expected to fall 1.5 per cent in the first three months of this year," the report said.
The import duty announced by Finance Minister Pranab Mukherjee in the Union Budget will help protect the industry against cheap imports.
The duty on flat steel has been increased to 7.5 per cent.
However, steel producers are apprehensive that there would be efforts to rein in prices since the import duty had been increased.
Globally, even coking coal prices have started moving up, due to a strike in Australia and Indonesia's plan for an export tax.