Ajay Singh, one of the founder directors of Spicejet, has left the board of the low-cost airline, paving the way for restructuring of the company by its new owner Kalanithi Maran, the promoter of Sun TV.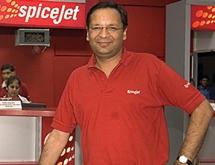 The company, in its annual general meeting held on Friday, also announced that along with Singh, another director of Spicejet Ltd, Atul Sharma, has decided to leave the company.
"One of the agenda items of the Annual General Meeting was about Ajay Singh and Atul Sharma leaving the company board. They have been our directors for a long time. We appreciate their contribution," Spicejet interim CEO Kishore Gupta told reporters after the AGM.
Singh, along with London-based NRI Bhupendra Kansagra, set up the second largest domestic no-frills carrier in 2005.
He is likely to keep his 4.13 per cent stake in the airline, although he did not respond to calls or text messages sent to him.
After the exit of Ajay Singh and Atul Sharma, the Spicejet board now has six members, including interim CEO Kishore Gupta.
The other members are Bhupendra Kansagra, Mukkaram Jan, A Maheshwary, Vijay Kumar and Ranjit Nabha.
The restructuring of the Spicejet board is expected to take place after an open offer by Maran for an additional 20 per cent equity in the company.
The open offer was supposed to take place in August, but was postponed by the new promoters.
The Civil Aviation Ministry has already approved the induction of Maran and five others -- Kavery Kalanithi Maran, M K Harinarayanan, J Ravindran, S Sridharan and Nicholas Martin Paul -- into the company board.
Gupta said the dates for the open offer will be announced in the next few days, as the company is waiting for the nod from market regulator SEBI.
"I think it could be any day ... We are just waiting to hear from SEBI," Gupta said. KAL Airways, a firm owned by the Sun TV Chief, had bought a total stake of 37.7 per cent in the airline in June at a cost of Rs 746 crore (Rs 7.46 billion), with the option of acquiring another 20 per cent stake through an open offer.
The open offer would involve an outgo of around Rs 480 crore (Rs 4.8 billion), taking the overall deal size to Rs 1,220 crore (Rs 12.2 billion).
The company AGM also approved a proposal to increase the authorised share capital of the company from Rs 415 crore (Rs 4.15 billion) to Rs 500 crore (Rs  5 billion).