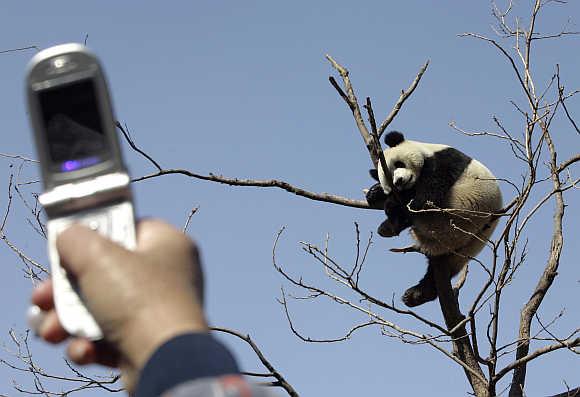 The telecom spectrum auction entered the 33rd round of bidding today after starting off from the Rs 52,689 crore (Rs 526. 89 billion) mark this morning.
"The auction of spectrum in the 1800 MHz and 900 MHz band that began on February 3 has completed 32 rounds, as per the latest information available on the fifth day today...Bidding is ongoing," according to an official statement.
The government had received Rs 30,754 crore (Rs 307.54 billion) of bids for the 1800 MHz band and bids totalling Rs 21,935 crore for the 900 MHz band at the end of the fourth day.
There is no time limit for the sale of spectrum and the duration of the auction will depend on the appetite of the eight companies in the fray -- Bharti Airtel, Vodafone, Idea
Cellular, Reliance Jio Infocomm, Aircel, Tata Teleservices, Telewings (Uninor) and Reliance Communications.
Winners of spectrum in auctions are allowed to borrow as much as $750 million (about Rs 4,671 crore) from overseas in every financial year to pay for the airwaves, the government had said in parliament.
At the end of each bidding round, the price of airwaves is increased in the range of 1 to 10 per cent, depending on the number of spectrum blocks in demand.
The price of the 900 MHz band in Delhi shot up by about 78 per cent to Rs 639.24 crore (Rs 6.39 billion) per MHz, compared with the base price of Rs 360 crore (Rs 3.6 billion) fixed by the government. In the 1800 MHz band, the reserve price rose by 5 per cent to Rs 230 crore (Rs 2.3 billion) a MHz.
The auction for the fourth day ended with no excess demand for the first time for the 900 MHz in any of the three metros -- Delhi, Mumbai and Kolkata.
In Mumbai, the price of the 900 MHz band increased 72 per cent to Rs 563.09 crore (Rs 5.63 billion) per MHz and in Kolkata it rose 54 per cent to Rs 192.71 crore (Rs 1.92 billion).
The government is offering about 385 MHz of spectrum in the 1800 MHz band, which started on February 3, following a February 2013 Supreme Court order.
Also on offer are airwaves in the 900 MHz band in Delhi, Mumbai and Kolkata, which are held by Vodafone, Airtel and Loop Mobile, whose licences expire in November.
The 3G auction in 2010 took place over 34 days, while the auction in November 2012 lasted for two days and the March auction last year was a one-day affair.
In November 2012, bids worth Rs 9,407 crore (Rs 94.07 billion) were received for spectrum worth Rs 28,000 on offer.
In March 2013, no GSM operators participated in the auction and only CDMA operator Sistema Shyam bought spectrum of about Rs 3,600 crore (Rs 36 billion) in eight of the 21 service areas.