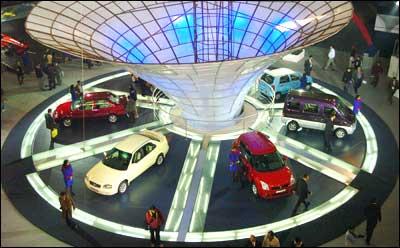 "So what, according to you, is the most important car at the expo?" For someone covering his sixth Auto Expo, I should have had the answer ready. But I had to think, and think again. Welcome to the eighth Auto Expo which will be remembered for nothing really spectacular.
No Korean major with showgirls and a host of concept cars, no small car wonder that you and me are bound to buy in the near future, no cheap diesel car that runs on patriotism as an alternate fuel.
Instead, a bunch of cars, two-wheelers and truck majors focusing on the tangible. Realistic machines and the variants that should take the Indian automotive scene forward -- slowly but steadily.
But that didn't prevent auto makers from bringing a degree of bling and techno to their pavilions. There was at least one Formula One car, one World Rally Championship contender and a full-blown Grand Prix motorcycle.
Then there was the auto accessory industry, which is riding the shock wave of the Indian automotive revolution -- that meant a host of alloy wheel makers, roof-rack systems, in-car entertainment solutions, graphics people and modified cars present in full flight.
Then there were spanking new trucks and buses... a lot of them. They were very visible, not because they were big and painted yellow, but because they sported contemporary designs. This Auto Expo to commercial vehicles is what the fourth expo was for cars in India. Strap up, as we go on a whirlwind ride through Pragati Maidan.
Honda
What they had on display: The most significant car at the Honda pavilion was the new, eighth generation Civic. This is the machine that won "Car Of The Year" for Honda at the Detroit Motor Show earlier this month. The Civic will be slotted against the likes of Toyota Corolla when it hits Indian roads in a few months time.
Compared to the Corolla the Civic has flamboyant styling going for it and a gem of an i-VTEC motor powering it. Also on display was the Insight, Honda's first hybrid, which has an electric motor paired with a lean burn three cylinder petrol engine. The FCX, shown in India for the first time, is the world's first hydrogen-powered vehicle to go on limited sale.
Electric power is generated from a hydrogen-oxygen reaction within the car, and water is the only emission. Then there was Jenson Buttons' Sunday drive, the BAR Honda Formula One car in Lucky Strike colours. This machine can do 0-200 kph in 5.2 seconds and will cross 320 kph given a decent race track straight.
What they didn't bring: The WOW concept that Honda unveiled at Tokyo (meant for those who own dogs) would have been a big hit. Actually, the twin-jet or the Asimo II robot would have been nice too. But seriously, why can't Honda show small car concepts that can take on the likes of the Wagon R and Santro, if not the Maruti 800?
What we think: Honda is investing slowly but steadily in India and it looks like they can sell whatever they can build. The Civic will give the Toyota Corolla a good run with its modern lines and peppy yet efficient i-VTEC engines. But the day when this engineering driven company challenges small car firms is still a decade away.
Ford
What they had on display: How Ford could get away with a modified Fiesta and a cheescake Mustang GT for the Expo is a mystery. The InXS was a styling concept by Dilip Chhabria and the Indian design maestro did some parallel thinking to come up with an even more global looking sedan.
Inspiration and design cues came from contemporary American sedans than those from Europe. Brilliant. The V8 powered Mustang GT has close to 300 bhp on tap and is a beautiful representation of the modern day American muscle car. It will be remembered as one of the last "retro" designs initiated by Ford design chief J Mays.
What they didn't bring: We missed the Focus three-box sedan -- a car that we believe has great potential to take on the likes of Toyota Corolla and the upcoming Honda Civic. A WRC Focus would have given added sportiness to the pavilion too.
What we think: Ford is going through terrible times elsewhere in the world and sadly the Indian arm couldn't hide this fact. Still, the Mustang was nice. To see the Ikon, Fusion and the Fiesta under the same roof made us wonder how Ford is going to sell three vehicles in more or less the same segment. All the best, Ford.
Maruti
What they had on display: Swifts, Swifts and more Swifts. Maruti is so gung-ho about their newest entrant, they filled an entire pavilion with seven of them in every colour on sale. And they had one in yellow too. But that was their JWRC contender with a blown 218 bhp, 1600cc motor that throws up so much mud on weekends you'd think it was an excavator.
Their other motorsport entry was a Formula Suzuki Hayabusa that's powered by the same 1299cc, 173 bhp engine that does duty in the Hayabusa. But it wasn't all fun and games at the Maruti stall, because they also had their newest SUV on display -- the Escudo. The Grand Vitara replacement comes with a 2000cc, 138 bhp engine and should be the next softroader to debut in India.
What they didn't bring: The ever faithful Esteems and Zens. Actually they did bring them on display, but we weren't really too impressed with those. Maruti also left out the SX4, maybe because they didn't have any space left.
What we think: The fact that they rented out the entire pavilion was a much required show of strength for the market leader. Also, given that almost every other car sold today is still a Maruti, we think their plan to launch one car every year for the next five years will only consolidate their position.
Hindustan Motors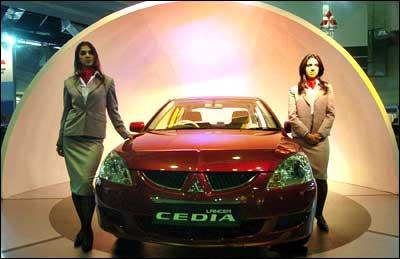 What they had on display: HM actually had one of the few "real" launches of the show. The Lancer Cedia will finally be filling up Mitsubishi showrooms soon and will be available in two variants, Elegance and Sport. Strangely, both these versions will cost Rs 9.87 lakh (ex-showroom, Delhi).
The Cedia comes with a 2000cc, 115 bhp engine and includes airbags and ABS as standard. While the Elegance comes with standard two-tone interiors, the Cedia Sport is available in 'Aussie Yellow' and gets a spoiler too. Mitsubishi also got the mind-blowing Evolution IX but for some reason kept saying that it wasn't on sale.
What they didn't bring: The good ol' Amby was absent. Given that the Montero is about to go on sale soon, this would have been a good opportunity to show it off.
What we think: Everyone's seen the Cedia by now but it sure got more than its share of attention. Just the kind of thing Mitsubishi need. Maybe someday you will be able to drive out of a Mitsubishi showroom in a real 300 bhp Lancer instead.
Audi
What they had on display: The only player from the premium league, Audi put the expo to good use by launching the A4. If you've been eyeing your neighbour's C-class, here's your chance to get even.
The Audi is available with a 2000cc, 140 bhp turbodiesel or a 1800cc, 163 bhp turbocharged petrol (haven't we seen that engine before?). It'll be on sale at a dealer near you by the time you read this and should set you back by around Rs 25 lakh. The diesel version will be a further Rs 2 lakh.
But if your neighbour has a Cayenne in the driveway, it's the Q7 that you need to be saving for. Audi's first SUV that's set to go on sale in the fourth quarter of 2006 made for quite a crowd puller at the Audi pavilion and was probably the star of the show.
What they didn't bring: The Q7 certainly brought in the crowds but we would have loved an R10 in flesh. Pity they left out the TT and the 400 bhp RS4.
What we think: The Audi pavilion was the most relevant of the lot and by far the most impressive too.
Mahindra
What they had on display: Mahindra's outing at the Expo turned out to be a concept special. Most of their cars were out in full kit that included bull bars, bling wheels and so many fog lamps they would've been the best substitute for daylight. There was the Inspira -- a short wheelbase Bolero that seemed to have got its inspiration from a Wrangler Jeep while the HEV demonstrated Mahindra's first hybrid electric engine.
What they didn't bring: The facelifted Scorpio that should be out soon.
What we think: The concepts look fantastic and Mahindra should seriously consider putting a few on the production line. It would certainly work wonders for their image.
Skoda
What they had on display: Skoda made it to yet another Auto Expo and this time promised to launch six new models in 2006. No, not the long legged lasses from the TV commercials but some seriously fast machines.
For starters, the 2000cc, 200 bhp Laura RS. The RS could also be India's first tryst with a direct injection petrol engine and will inherit the performance throne from the current 1800cc turbopetrol Octavia.
This is one car we certainly can't wait to drive. The Fabia also made yet another appearance at the expo but we think it will figure somewhere in Skoda's six-model plan. The Yeti was there too and it looked as good in flesh as it did in the pictures.
What they didn't bring: The WRC Skoda would have been nice since it attracts crowds. We are sure Skoda could've managed to get one in, especially since it's out of work now.
What we think: Everyone who's been to Pragati Maidan in the last six years knows that Skoda make the Fabia. It's high time they sold one now.
Tata
What they had on display: Tata's alliance with Fiat finally came out in the open. At the time of going to press, most of their cars were under wraps but we did manage to get a glimpse of
a covered Palio and an Alfa Romeo Competicione concept car. The other stunner was the Indica Silhouette, an Indica cup racer that's powered by a rear-engined in-line six cylinder motor. This is one Indica that won't require a V2 version.
What they didn't bring: The much-hyped Rs 1-lakh
prototype, what else!
What we think: The Fiat-Tata
alliance seems like one venture that should benefit both of them equally. Oh, and we can't wait to get behind the wheel of the Silhouette.
International Car & Motor Ltd
What they had on display:
These guys have been making tractors for some time now and they say they can build an SUV that will be better and cheaper than the current lot. All we can say is that their first prototypes looked impressive and the plant footage we saw even more so. The Rhino comes with a 2000cc, 75 bhp engine and the vehicle has been developed with help from MG Rover from UK.
What they didn't bring:
Tractors!
What we think:
The fact that the Rhino looks so much like the now defunct Qualis will only help them.
---
The best of two-wheelers at the expo
The eighth Auto Expo saw more than a few two-wheeler
manufacturers conspicuous by their absence. Honda, LML, Kinetic and Royal Enfield decided not to come to the show grounds, and that should have been a dampener.
There certainly was a lot of eye-candy
at the Expo, starting from the glossy lineup of Yamaha and Suzuki 'reference' models and extending in a colourful streak to the girls helpfully pointing out to the printed spec sheets.
However,
the Expo did not disappoint. Here's why.
Bajaj
What they had on display:
If the crowds were any indication, Bajaj was the clear leader in spectator traffic, at least in the motorcycle booths. Bajaj had some advanced, even concept-ish motorcycles on display, though none were teasers.
When we'd finished ogling the bigger than Pulsar 180 machine, which sported fuel injection (to called DTS-Fi), projector headlamp, an oil-cooler, rear disc brake, LED taillamps -- each one an India first --
they told us they'd launch it, lock, stock and smoking barrel.
Next to the big Pulsar was the aggressive and wedgy new Pulsar 180,
also due for launch within the calendar year. Bajaj showed off a new platform called the Sonic, meant to be a sporty machine for the college kid, which looked very stylish and sported all the right bits.
eighth Auto Expo in New delhi. Photograph: AFP/Getty Images" src="http://im.rediff.com/money/2006/jan/13sld5.jpg" align=left border=0>The scooters were represented by the Wave, the current in-production scooter, the Kristal -- another 2006 launch intended for the college-going girl, and the superb Blade, which aims squarely at the more macho, Italian style of scooters. The Blade sported disc brakes, alloy wheels, fat telescopic forks and looked very, very good.