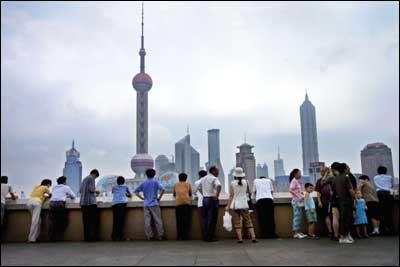 To get a real sense of Shanghai's grandeur, take a walk along the paved promenade, called the Bund, on the Huangpu River.
The Bund  --  an Anglo-Indian term for a muddy embankment  --  showcases the outstanding architecture of buildings from the pre-1949 era.
If the Bund is all about old-world charm, look across the river at Pudong, called the new Shanghai. Dominating Pudong's skyline is the Jin Mao Tower, the third-tallest building (90 floors) in the world and Shanghai's tallest commercial tower. Take the elevator to the 55th floor reception of The Grand Hyatt Hotel, which occupies the top half of the building, and the view is breathtaking.
Mere farmland barely 15 years ago, Pudong alone houses close to 75 gleaming skyscrapers today. This part of Shanghai is clearly in a hurry. Watch the throngs of men in crisp jackets and ties and women in dressy blouses and short skirts pushing their way along its main streets, and the overwhelming feeling is that these are people (Shanghai has 23 million) pressing to get on with the business of doing business  --  big business.
The rush to catch up with the other great cities of the world is also evident from the huge construction digs, building sites and giant cranes pivoting high above the streets.
Apart from the frequent hour-long traffic jams, the rush to catch up has ended in about 260 of the world's top 500 multinationals entering Shanghai in the past 10 years.
A Chinese government representative reels out numbers to prove how the economy in the eastern metropolis of China has been steaming ahead since 2002 with a 10 per cent growth year-on-year. The city's gross domestic product hit $30 billion over a six-month period, beating its own growth target of 9.6 per cent and outpacing the national growth by a few percentage points
But just as the never-ending giant barges on the Huangpu obstruct your view of the ubiquitious skyscrapers, statistics tell only half the story.
Companies from around the world are slowly discovering a new route to enter the get-rich-quick Mecca in China. It's called the "zou houmen", which means go through the back door.
As you enter the imposing Pudong Shangri-La Hotel right in the heart of the city, the reception counter has several copies of the "Ten Commandments of doing business in Shanghai", prepared by Dezon Shira & Associates, a leading consulting company which advises foreign companies on registration formalities in China.
Some of these commandments are revealing:
Thou shalt dot thy I's and crosseth thy T's as small mistakes canst lead thy partners into temptation of taketh advantage of thy naivette.

Thou shalt not assume that because thou hast previously set up factories elsewhere, thy knowest the tribulations of China's Heavenly Middle Kingdom.
But this one perhaps takes the cake:
Thou shalt pay close attention to the purchasing department and monitoreth them closely lest they fall into the temptation and buy from their siblings at double the market rate.
Consider the facts: many small and medium foreign companies operating in Shanghai say contracts with the government or local partners lose something in translation and invariably mean "open to negotiations". The elaborate, unwritten code of rules prompts a Chinese representative of a small overseas firm to say "you have to do business here only through value-laden relationships".
The results are pretty obvious in a country still ruled mostly by decree. A local tax official can impose a tax on a company simply because the local revenues have been low, or worse, because he doesn't like someone in the company.
Though the licensing procedure is bureaucratic and time-consuming, the most common form of business licences for small foreign companies is still the representative offices. This is in spite of the fact that the ROs are not permitted to invoice themselves, and are not supposed to be used as profit centres.
So what explains this phenomenon? Chris Devonshire-Ellis, senior partner at Dezan Shira, has an answer. "it is relatively common  --  although we must say it breaks the law  --  for ROs to bill clients for their services in fact carried out by their office in China."
According to Ellis, generally such offices bill clients from Hong Kong or an alternative location (so the money isn't invoiced from China at all) and receive money there.
The trend now though is for China-based companies to want to pay in remnimbi, which is more tricky, especially if the client also requests for an official receipt  --  which the ROs cannot provide. The RO owners, of course, have found a way out.
The back door in this case is to strike up a "friendly relationship" with a local Chinese company to bill on their behalf, and then receive the remnimbi in cash. Never mind the fact that this is hardly in compliance with the law.
There are also problems with being able to legimately repatriate this money overseas, as there is no legal mechanism with pure cash to allow you to convert into foreign currency and wire back home.
Many people just put wads of cash in their suitcase and fly to Hong Kong (where local banks are now accepting remnimbi deposits albeit at an unattractive exchange rate). But this is illegal, right? Ellis, however, says "the risk of getting caught appears to be fairly minimal."
In fact, the practice of small foreign companies using ROs as a quasi-billing entity is common knowledge in Shanghai.
Counterfeiting is another problem faced by foreign companies in Shanghai. Piracy is such a way of life here that people are surprised when a movie, software package or handbag bought there is not ripped off.
Now you can add, to the list of counterfeit goods, passenger cars. Months before General Motors began selling its $7,500 Chevrolet Spark in China in December, a $6,000 knockoff version, the Chery QQ, with the same grinning front end but missing some subtle details (like an airbag), was cruising Shanghai streets.
Ford Motor Company, for example, says counterfeiting costs it $2 billion a year in sales. Counterfeiters are using computer scanners to duplicate trademark labels and slap them on fake goods.
One can quite simply purchase a "new Omega or a Rolex" watch for a paltry $10 but negotiation is obligatory. You will express interest in a product, they will indicate to you the asking price on a calculator; you respond to about 70 per cent of the original price by pressing your desired price on the calculator; they will emit horrifying screams with another elevated price....and so on and so on.
Most foreign company representatives also say despite the glitzy exterior of the skyscrapers, they feel quite "power"-less inside them. Reason: the city requires 16.2 million kilowatts of electricity this summer against the actual supply of 14.5 million kilowatts.
This year, 2,100 companies in Shanghai have been told to run at night, while 3,000 others will switch between day and evening operations. Hit by the worsening power crunch, the local government ordered its two top car makers and a foreign electronics plant to shut production for more than a week. Volkswagen began a 10-day halt on July 16 and General Motors shut its plant a day earlier. Sony Corp said it will stop work at one of its two plants next week.
The root of today's power shortages can be traced back to the Asian financial crisis. At the end of crisis in 1999, China's economy grew at a relatively sluggish pace of 7.1 per cent, leaving the country with a surplus of power.
At the time, government bureaucrats approved the construction of fewer power plants.Now, realising that they underestimated demand, Chinese power companies have been investing heavily to build new plants to increase power generation capacity by 130 gigawatts, or almost a third more than China's current capacity.
What then is the reason for Shanghai's meteoric growth? The answer is pretty simple: as long as companies all over the world see stars when they look at China's 1.3 billion potential customers, the Bund will continue to be a top draw. Example: Shanghai's property prices have gone up by around 30 per cent in the past one year alone.
Powered by