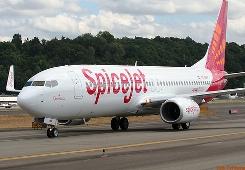 A section of the public institutional shareholders of SpiceJet Airlines has voted against issuing unsecured compulsory convertible debentures on a preferential basis and the allotment of warrants to promoter Kalanithi Maran, expected to infuse about Rs 184 crore (Rs 1.84 billion) into the airline, raising his stake by five per cent.

Only 15.57 per cent of the public institutional shareholders participated in the postal ballot.

Of these, 10.84 per cent voted against the promoter acquiring indirect stake through these instruments.

While 4.86 per cent were against the election of promoters Kalanithi Maran and Kavery Kalanithi as directors not liable to retire by rotation.

The shareholders didn't vote against a rise in the company's authorised share capital to Rs 1,000 crore (Rs 10 billion) or
the reappointment of S Natrajhen as managing director.
On December 26, the company had informed the BSE the shareholders had passed a resolution for the issue and allotment of 14 per cent unsecured CCDs of an aggregate nominal value of Rs 130 crore (Rs 1.3 billion) and warrants of an aggregate face value of Rs 15 crore (Rs 150 million), with an option to apply for equity shares, on a preferential basis, to Kalanithi Maran.
According to data available with BSE, till September-end, about 65 institutional shareholders held 7,05,06,970 shares, 14.56 per cent of the total shares in the company.
The promoter and the promoter group held about 48.59 per cent of the total shares.