V K Sharma took charge as the chief executive of the scandal-hit LIC Housing Finance on Monday and said putting the company back on the growth path would be his first objective.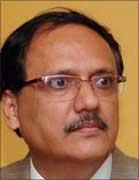 The prime agenda will be "to put LICHFL on the growth path again", Sharma told reporters after his appointment was ratified by the Board of the company.

Fifty-one-year-old Sharma, who was earlier serving as the head of parent Life Insurance Corporation for the South Zone, asked investors not to "worry or panic".

Sharma's predecessor R R Nair was arrested last week by the CBI in connection with the bribes-for-loans scam along with seven others. According to the premier investigating agency, Nair and other bankers took bribes to clear loans of corporates in connivance with two top officials from Money Matters, who played the role of mediators.

To a question, Sharma said that there will be a review of the company's accounts.

In a statement, the company said the outstanding loans under scrutiny by CBI are worth Rs 389-crore (RS 3.89 billion) and the value of security against these loans is over Rs 1000-crore (Rs 10 billion).

The total loan book as of October 2010 was Rs 44,569-crore (Rs 445.69 billion) and the gross non performing assets were 0.75 per cent (including project loans), it added.

"The Board observed that the preliminary report prepared by Committee of General Managers' which was constituted to examine the cases under scrutiny, confirmed that the loans are performing (and) documentation is in order," the statement added.