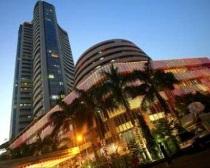 Markets have erased all the morning gains as European shares reversed direction and concerns of flagging domestic growth weighed on investors mind.

The Sensex, after touching a high of 16,766 dropped almost 400 points to a low of 16,374. The index finally ended at 16,467 - down 34 points.

Nifty after regaining the 5,000 level in morning trades ended with a loss of six points at 4,941.

The markets surged in morning trades as investors took to buying shares in specific sectors.

In Asia markets advanced in morning trades on hopes that China will buy the bonds from Italy.

However, the positive sentiments faded quickly after a spike in Greek borrowing costs on escalating worries that the nation will default on its debts. Shanghai Composite dropped 1% to 2,471.

Taiwan Weighted slipped 3% to 7,391. Nikkei, however, managed to hold on to gains and advanced 1% in trades. European markets were down with CAC declining 2.3% to 2,789. DAX and FTSE slipped as well.

Investors expect Europe to fall into recession in the next 12 months, according to the BofA Merrill Lynch Survey of Fund Managers for September.

Back in India, markets are likely to watch the corporate advance tax figures which is set to come out on Thursday.

Friday's RBI credit policy review may also decide on the direction for the markets.

The predominant opinion between economists seem to be that the RBI would increase rates one last time in its 18-month-long tightening cycle as inflation pressures continue to remain strong.

"Markets are likely to witness a range of 4,910-5,097 in the short term. For the Medium term only a move above 5161 would unfold a sustainable upmove.

"Traders
would be adivsed to avoid huge leverage positions as the current week is of eventful nature and keep strict stop losses for trades on either sides," said Ranak Merchant from Sushil Financial Services.
Describing the high commodity and food prices a threat to growth and food security in energy dependent emerging economy, Finance Minister Pranab Mukherjee called for collective global action to overcome the crisis.
His comments came a day after the country's industrial production fell to a 21-month low of 3.3% in July, and the likelihood of a sovereign debt default by Greece looming large again.
BSE IT index managed to hold to some gains and ended up 1% at 4,833. TCS gained 1% to Rs 999 as it entered into a partnership with Felda Prodata Systems for joint development and delivery of IT services and solutions in the Malaysian market.
Wipro and Infosys jumped 1.5% to RS 330 and Rs 2,223, respectively.
Among other stocks, DLF, NTPC, ITC and Jindal Steel managed to recover.
However, auto stocks led the losses as the index fell 0.6% to 8,480.
Tata Motors traded lower for the second straight day after the the stock price was adjusted post the 1:5 share-split.
The face value is now Rs 2 per share.
A temporary solution to the labour unrest at its Manesar plant, took shares of Maruti Suzuki up 0.6% to Rs 1,075. Bajaj Auto gained 1.5% to Rs 1,600.
ICICI Bank dropped 1.5% to Rs 849 and was the biggest dragger among Sensex stocks. SBI touched a 52-week low of Rs 1,822 and ended down 1.5%. Jaiprakash Associates, Hindustan Unilever, Hindalco, ONGC and Mahindra & Mahindra shed 1-2% each.
BSE market breadth turned neutral. Out of 2,928 stocks traded, 1,394 declined while 1,397 advanced on the BSE.