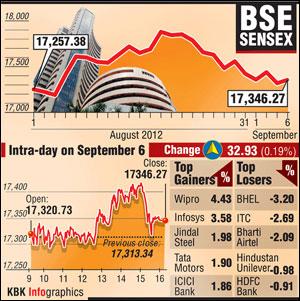 Markets ended higher on Thursday, amid a volatile trading session, led by gains in software shares. However, selling in FMCG and index heavyweight Reliance capped further gains in late trades.
The 30-share Sensex ended at 17,346 up 33 points and the 50-share Nifty ended at 5,238 up by 13 points. The Sensex and the Nifty reached an intra-day high of 17,418 levels and 5,261 mark, respectively.
On the global front, European stocks edged higher and the euro hovered near an eight-week high on Thursday on expectations the European Central Bank will unveil new tactics to cut high borrowing costs for indebted euro zone states at a policy meeting later in the day. CAC, DAX and FTSE have surged by almost 1% each.
Japan's Nikkei average fell to a near five-week closing low on Wednesday as soft U.S. manufacturing data and construction spending added to concerns about a global economic slowdown.
Back home, surpassing all previous records, gold today hit a new record high of Rs 32,758 per 10 grams in futures trade as participants built up huge speculative positions, tracking a firming trend overseas.
The rupee erased early gains today and fell 11 paise to 56.02 a dollar on fresh demand for the American currency from banks and importers amid capital outflows from foreign funds.
On the sectoral front, BSE IT and TECk indices surmounted between 2-3% followed by counters like Auto, Healthcare, Banks and PSU, all gaining between 0.4-1%. However, BSE FMCG, Consumer Durable and Capital goods indices slipped between 1-2%.
From the IT space, Wipro, Infosys and TCS spurted between 1-4%. Wipro was the top Sensex gainer. Infosys ended higher by nearly 4% on reports that India's second-biggest software services provider is open to bigger deals given the right opportunity.
"Infosys is looking to ramp up its business in France and Germany, where it would consider buying local operators, and in the healthcare and life sciences industries, where it is a small player," the Reuters report suggests quoting V Balakrishnan, chief financial officer of Infosys.
Banking and financial shares like ICICI Bank and SBI gained between 1-2%. Shares in State Bank of India, country's biggest lender, rose 1.8 percent after the bank slashed its deposit rates between 50-100 basis points across maturities, effective Friday.
Morgan Stanley, however, says SBI's move is more of a manifestation of a slowing economy with RBI data also showing loan growth for the system for April to August has been close to zero - similar to the 2008 levels.
Metals shares like JSPL, Hindalco and Sterlite increased between 0.1-3%. Five coal blocks with an estimated reserve of 3,155 million tonnes (MT) out of 25 cancelled so far have been re-allocated to Coal India, JSPL and a consortium of public and private players, the government said today.
Other notable gainers include NTPC, Maruti Suzuki, GAIL, Tata Motors, ONGC and M&M.
On the losing side, shares in India's biggest cigarette maker ITC fell as much as 3% on concerns that anti-tobacco marketing laws globally might be emulated in India as well, dealers say. HUL declined by nearly 1%.
From the Capital Goods space, BHEL was the top Sensex loser, down over 3% after the stock ex-dividend. The company paid a dividend of Rs 3.68 per share of face value Rs 2 each. L&T declined by almost 1%. Capital goods shares ended lower on concerns over delay in execution of major power projects.
Meanwhile, BSE Midcap index gained by 0.31% whereas BSE Smallcap index moved up by 0.24%.
The market breadth in BSE ended positive with 1,446 shares advancing and 1,333 shares declining.
Smart Movers
Shares of cable operators Den Networks and Hathway Cable and Datacom rallied more than 6% each on back of heavy volumes on the Bombay Stock Exchange. According to media reports, the government has ruled out any further extension of the October 31 deadline set for cable digitisation in the four metros - Mumbai, Delhi, Kolkata and Chennai.
Tinplate Company of India soared over 9% after its promoter Tata Steel acquired additional 14% stake of the company for Rs 87.92 crore through open offer.
Neyveli Lignite Corporation ended higher by nearly 2% after the company said it is planning to increase its raw lignite sales to over 1 million tonnes.
West Coast Paper Mills plunged 9% to Rs 65 on reports that US-based International Paper Mills is planning to buy a stake in the West Coast Paper Mills.